sensational orchid pictures


... even for beginner photographers


You can take stunning orchid pictures even if you're a beginner photographer. Orchids come in all colours, shapes and sizes.

Of all the flowers in the world, none are more seductive than orchids... at least I think so. They're aloof, classy, even snobbish. And a photographer's dream.


Dark magenta and brown orchids at Foster Botanical Garden in Honolulu, Hawaii.

Orchids are the largest family of all the flowering plants. To get an idea of just how large that is...there are twice as many species as bird species, four times as many as mammal species!


This video was shot at Yeomijo Botanical Garden, Jeju Island, South Korea.
Click here for more photos and information about this phenomenal garden. It's promoted as being the best botanical garden in Asia.  Since I haven't seen them all, I can't say if that's true or not. But it is a fairy-tale floral world and if you're serious about flower photography, even a full day's visit won't be enough.
Orchid Pictures Close Up

... Use your dedicated macro lens
if you have one
Your friends' gardens might be a good place to get some orchid pictures.

Not their "natural" environment but these images have greenery in the background.

This image was taken in my friend's garden in Winnipeg a few years ago. Unlike me, she has an incredible talent for growing orchids. Makes me very envious since I seem to kill every orchid plant I get my hands on.

Friends and their floral talents come in handy when you're a flower photographer!


Magenta and white phalaenopsis orchids at a friend's home in Winnipeg.
If you're serious about getting great orchid pictures, you have to get in close and hold your camera super-steady. Best to take your tripod.
Take a good quality close-up or macro lens along with a tripod - there's no way around it!

Choose a fresh, flawless bloom that's fully opened!
Gently tie any distracting objects out of the way with twist ties.
If you're shooting outdoors, find a sheltered location with no wind.
Use reflectors to bounce the light onto the bloom. White foam board or cardboard will do the trick.
Never use direct flash. It's much too harsh. If you need a little extra light to fill in shadows, use bounce flash. You can easily make one at home.
If you use your own backgrounds, make them neutral shades like muted earth tones. They'll set off the flowers without being distracting. Poster board with a mat surface is best since a shiny surface reflects light.
Quality of light is important. The best light is bright even shade.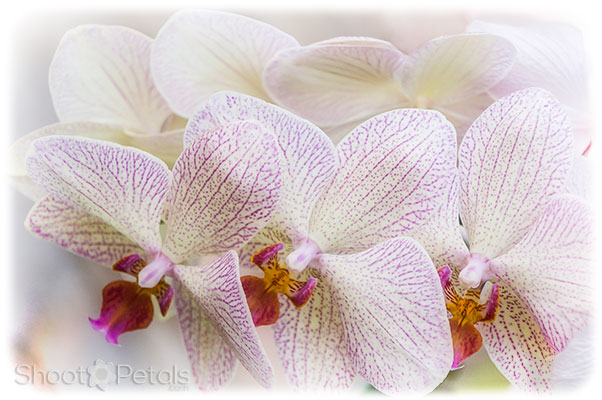 Phalaenopsis orchids at the Bloedel Conservatory, Queen Elizabeth Park, Vancouver.

My favorite orchid pictures are close-up or macros.  The petals have such fascinating details. Now I have a Lensbaby Velvet 56, just one of many Lensbaby lenses. You might want to try them out! 

Orchids

... Photograph them in their natural environment
Orchid pictures of the plant in its natural environment can be sensational as well. We can't all go the jungles to find them where they live but botanical gardens do a bang-up job of reproducing their true habitat. 
If you are fortunate enough to find them growing in the wild, please don't dig them up and take them home. Native plantings are endangered by commercial collectors who show no regard for the orchid's natural environment. 
To show the orchid's surroundings, you'll have to go a little wider than a macro, but you still don't want to clutter your picture with background distractions. Your flowers should be the main attraction and must fill the frame. If someone looks at your photo and asks you what the picture is about, you didn't get close enough.

Many of my orchid pictures are edited with artistic layers and textures. 

This photo has only basic tweaks in Photoshop and the background rock has a little extra blur and is darkened around the edges.

Basically, it's a black and white photo, except for the splash of gold and magenta in the centre of each flower.  I like it just as it is without pushing it.

This rocky wall was trickling with water and orchids love humidity.  And the tropical heat... man, was it hot and it was only February!


This is a good example of getting rid of distractions and getting close enough...  these white phalaenopsis orchids against the gray rock. This is in the Orchid House at the Royal Flora Ratchephruek in Chiang Mai, Thailand. That dazzling display won't escape my memory in this lifetime! There's no beating Thailand for orchid hunting.
And for a change of pace... a more colourful photo.  A branch of dainty purple Vandas hanging out with a bundle of brown spider orchids. Like the previous photo, I really didn't give this much more than the usual pick-me-ups in Camera Raw, some edge lightening and a white vignette frame.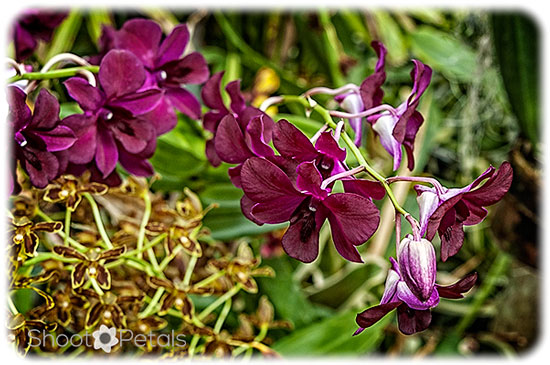 Purple epidendrum orchids and small brown and yellow oncidium orchids at Foster Botanical Gardens, Honolulu. Close up in their "natural environment" The flowers are sharp, the foliage is blurred.
Oahu is a perfect island tfor orchid pictures. There are several botanical gardens in or near Honolulu.
Gardens offer a large variety within a small area so visiting a garden is usually more "energy efficient" than hunting them in the wild.

Here's a video of the Royal Flora Ratchephruek in Chiang Mai. It will give you a brief idea of the size of the exhibition. Thailand is the ultimate home of the orchid and this exhibit showed the world a collection of extraordinary orchids.


Photo Editing - Express Yourself

More flashy and intensely yellow orchids in a tight cluster. I put them almost in the middle of the frame, blurred the background with a wide open f-stop. There's one orchid at the top that is in sharp focus and I could have placed it on a third line, a little to the left if I'd wanted to use the Rule of Thirds. 


Yellow orchids at Foster Botanical Garden, Honolulu.

But it didn't work well with the size and shape of this group of orchids. I like the picture with the flowers more central. To make the orchids stand out, I lightened the background just a little. With such an electric yellow, the orchids really grab your eye.
By the way, I didn't pump up the colour... the yellow really was that spectacular.


Hanging branch maroon and yellow orchids, at Foster Botanical Garden in Honolulu, Hawaii.

These are the same orchids as the ones at the top of the page.

When you take orchid pictures make sure you take both horizontal and vertical shots of the same subject.

This hanging branch would have too much space on either side if it were a horizontal shot.  To get the shot at the top, I moved in much closer to fill the frame with the orchids. 

This is also taken from a different angle than the other image.

Textures and Layers
... lay it on thick!

Assuming that you shoot RAW and use Adobe, your first adjustments will be in either Lightroom or Camera Raw. From Camera Raw, open your file into Photoshop. I'm using Adobe Cloud now... the photographer's bundle of Bridge, Photoshop and Lightroom and it only costs US $9.99 / month.

ON1's Perfect Photo Suite keeps getting better and you might want to look at that program. It has layers and all sort of Effects, a fabulous file resizing program and more.  Check it out here.

More orchids at a resort in Thailand. They had a beautiful collection all around the patios and walks.

I masked the orchids (in Photoshop) and on another separate layer from the background, increased the blur in the foliage and stone. Then another layer to increase the clarity ... only on the orchids to highlight the lines in the petals.


The light leaks in the corner weren't in the original photo. It's a layer added in Perfect Effects. I also added a dark vignette, then a white vignette as a frame. Can you guess how many layers there are?

Adding Text

... quotes or poems to share on social media
Text on images is pervasive in social media now. Got something important or funny to say... put your own quote on your orchid pictures.

Dreamy orchids with lots of space to put a quote. I didn't want to put text on the flowers.

Add text in Photoshop and you'll automatically get a text layer you can edit over and over again.  If you don't like it, delete the text layer.

Keep your layers by saving as a PSD file. If you want to share the photo, resize it and "save as" a JPG.  You'll have 2 files and all your layers are still there in the PSD file.

If you need a brush up on photo composition or exposure, take some time and plan out your shots.  Make some notes and carry them along with you.
Savor every moment with the orchids. Don't start photographing right away. Take in their beauty for awhile before you even take out your camera.
After you've spent time with them, you'll get a feel for which orchids you want to photograph and the composition you want.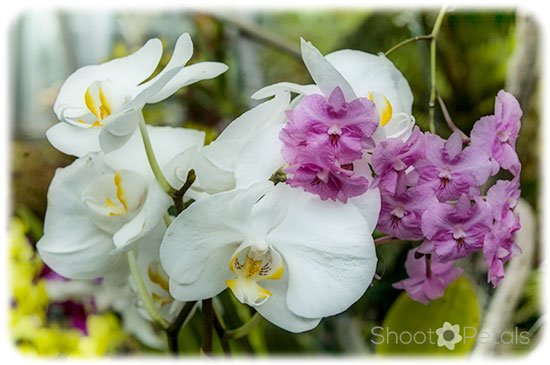 White phalaenopsis and violet epidendrum orchids. Background orchids and foliage blurred.
Look at them from all different angles. What's in the background? Is the orchid fresh and free of blemishes? Ask yourself these questions and more. Approach each shot slowly and thoughtfully. Use your notes.
Your mission is to come home with a few truly alluring, well planned photos... and to enjoy the process.