sensational orchid pictures


... even for beginners


You can take stunning orchid pictures even if you're a beginner photographer. Whatever your favorite colour... there's an orchid for you. They come in all colours, shapes and sizes.

Of all the flowers in the world, none are more seductive than orchids... at least I think so. They're aloof, classy, even snobbish. And a photographer's dream.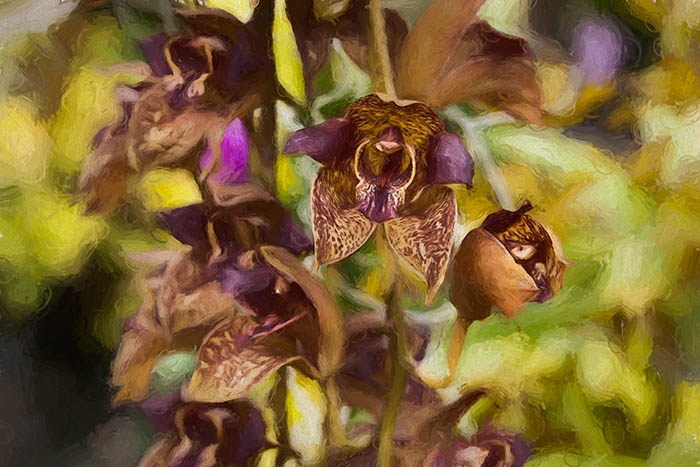 Dark magenta and brown orchids at Foster Botanical Garden, Honolulu, Hawaii. Artistic edit.

Orchids are the largest family of all the flowering plants. To get an idea of just how large that is...there are twice as many species as bird species, four times as many as mammal species! Unfortunately, orchids have been collected by the ton. Just one collector a hundred thousand orchids to England... and even more sadly, most of those died. 
Thousands of trees have been cut down to collect orchids growing on them and so many are now endangered species. We have not treated endemic orchids kindly.

Orchid Pictures Close Up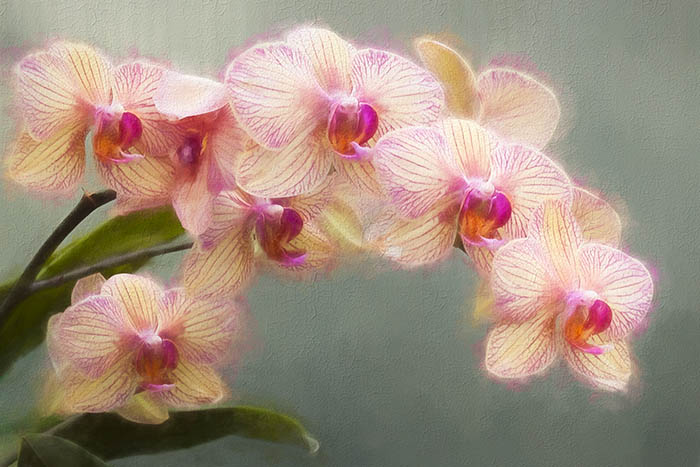 Magenta, yellow and white phalaenopsis orchids in Oshawa, Ontario. Edited in Topaz Impression.
Your friends' gardens might be a good place to get some orchid pictures.
Not their "natural" environment but these images have greenery in the background.
One of my friends in Winnipeg had an prolific collection. Unlike me, she had an incredible talent for growing orchids. Makes me very envious since I seem to kill every orchid plant I get my hands on.
Friends and their floral talents come in handy when you're a flower photographer!

Yeomiji Botanical Gardens, Jeju Island, orchids in the indoor gardens - visit Yeomiji Gardens here.


Want some seriously great super orchid pictures?  Then get in close and hold your camera super-steady... Best to use your tripod.
Take a good quality close-up or macro lens along with a tripod - there's no way around it!

Choose a fresh, flawless bloom that's fully opened!
Gently tie any distracting objects out of the way with twist ties.
If you're shooting outdoors, find a sheltered location with no wind.
Use reflectors to bounce the light onto the bloom. White foam board or cardboard will do the trick.
Never use direct flash. It's much too harsh. If you need a little extra light to fill in shadows, use bounce flash. You can easily make one at home.
If you use your own backgrounds, make them neutral shades like muted earth tones. They'll set off the flowers without being distracting. Poster board with a mat surface is best since a shiny surface reflects light.
Quality of light is important. The best light is bright even shade.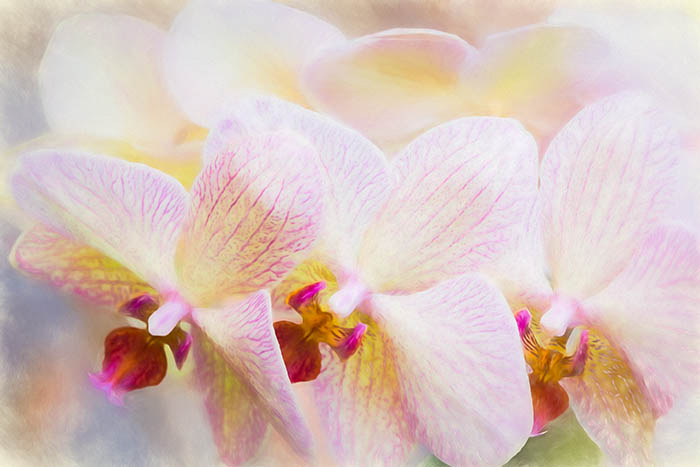 Phalaenopsis orchids at the Bloedel Conservatory, Queen Elizabeth Park, Vancouver.
My favorite orchid pictures are close-up or macros.  The petals have such fascinating details. Now I have a Lensbaby Velvet 56, just one of many Lensbaby lenses. You might want to try them out! 

Orchids

... Photograph them in their natural environment
Orchid pictures of the plant in its natural environment can be sensational as well. We can't all go the jungles to find them where they live but botanical gardens do a bang-up job of reproducing their true habitat. 
If you are fortunate enough to find them growing in the wild, please don't dig them up and take them home. Native plantings are endangered by commercial collectors who show no regard for the orchid's natural environment. 
To show the orchid's surroundings, you'll have to go a little wider than a macro, but you still don't want to clutter your picture with background distractions. Your flowers should be the main attraction and must fill the frame. If someone looks at your photo and asks you what the picture is about, you didn't get close enough.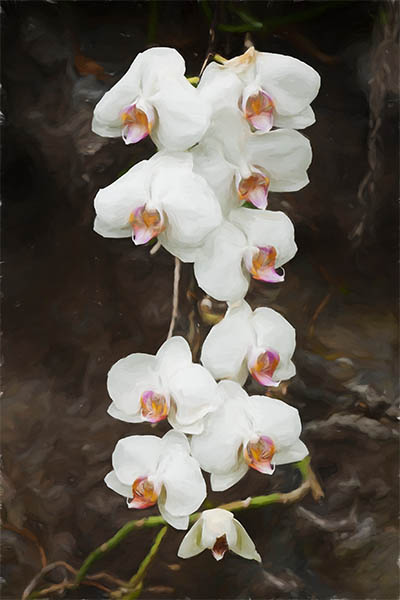 Phalaenopsis orchids, the Royal Flora Ratchephruek, Chai Mai.
Many of my orchid pictures are edited with artistic layers and textures, but not this one. The photo was taken at the Royal Flora Ratchephruek in Chiang Mai.

Basically, it's a black and white photo, except for the splash of gold and magenta in the centre of each flower. It's an artistic, painterly image... first edited from RAW in camera raw and saved as a PSD in Photoshop. Then into Topaz Impression to turn it into a painting.

This rocky wall was trickling with water and orchids love humidity.  And the tropical heat... man, was it hot and it was only February.
This is a good example of getting rid of distractions and getting close enough...  these white phalaenopsis orchids against the gray rock. This is in the Orchid House at the Royal Flora Ratchephruek in Chiang Mai, Thailand. That dazzling display won't escape my memory in this lifetime! There's no beating Thailand for orchid hunting.
For More Orchid Pictures...

I know you love orchids so here's a few more pages for you.
And for a change of pace... a more colourful photo.  A branch of dainty purple Vandas hanging out with a bundle of brown spider orchids. Like the previous photo, I ran it through Camera Raw, some minor tweaks in Photoshop and then into the Topaz suite.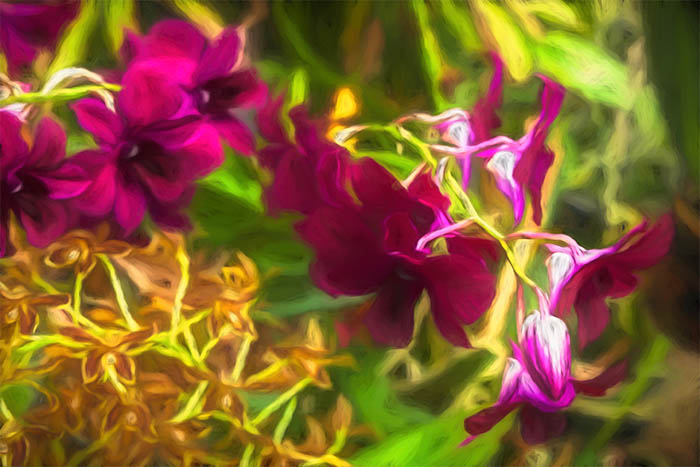 Purple epidendrum and brown and yellow oncidium orchids at Foster Botanical Gardens, Honolulu.
Oahu is a perfect island for orchid pictures. There are several botanical gardens in or near Honolulu and I chose Foster Botanical Garden since I was pressed for time.
Gardens offer a large variety within a small area so visiting a garden is usually more "energy efficient" than hunting them in the wild.

Here's a video of the Royal Flora Ratchephruek in Chiang Mai. It will give you a brief idea of the size of the exhibition. Thailand is the ultimate home of the orchid and this exhibit showed the world a collection of extraordinary orchids.


Orchids at the Royal Flora Ratchephruek, Chiang Mai, Thailand... visit the Royal Flora here.

Photo Editing - Express Yourself

Foster Botanical Gardens in Honolulu isn't one of the largest gardens I've ever visited,. What it lacks in size, it makes up for in its design.

Foster Gardens has numerous opportunities for orchid pictures, a wide variety of species and colours. 
This image is a RAW file processed in camera raw and edited first in Photoshop and then in Topaz.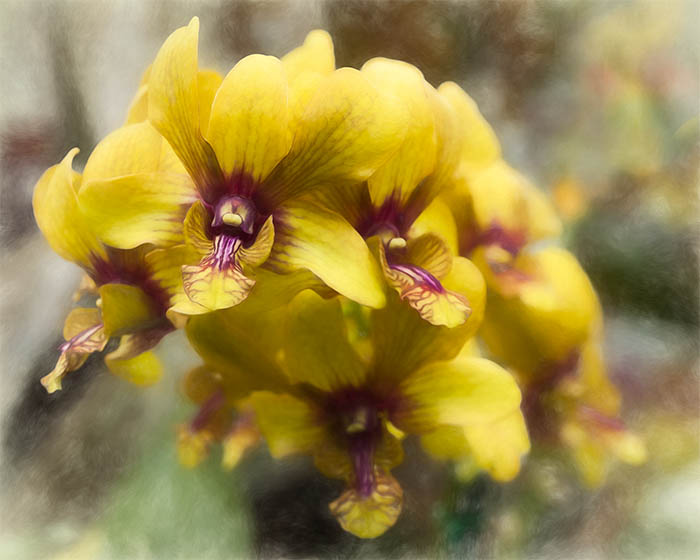 Yellow Orchids Foster Botanical Garden Honolulu, painterly editing.
More flashy and intensely yellow orchids in a tight cluster. I put them almost in the middle of the frame, blurred the background with a wide open f-stop. There's one orchid at the top that is in sharp focus and I could have placed it on a third line, a little to the left if I'd wanted to use the Rule of Thirds. 

But it didn't work well with the size and shape of this group of orchids. I like the picture with the flowers more central. To make the orchids stand out, I lightened the background just a little. With such an electric yellow, the orchids really grab your eye.
By the way, I didn't pump up the colour... the yellow really was that luscious.



Fine art prints and note cards.
I love sharing my images. I've been so lucky to travel widely for the last 20 plus years, visiting gardens in so many different countries. Beautiful gardens is one thing we can all share through fine art prints or note cards.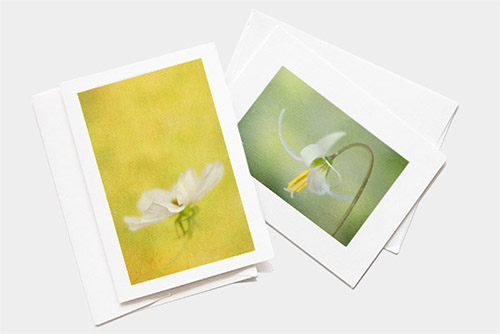 If you'd like to share my images with your friends and family, have a look at my Fine Art Prints and Note Cards. 
I'm doubly lucky to live by the ocean on Vancouver Island, so there's also a page for seaside life with the fishing boats and landscapes, the sea lions, herons and eagles.
If you don't see the card image you want, contact me and tell me what image you'd like.

If you need a brush up on photo composition or exposure, take some time and do that before you go out to photograph.  Make some notes and carry them along with you.
It's usually overwhelming to see multitudes of flowers everywhere. Control your enthusiasm folks. Relax and breath, then look at each flower carefully.  Don't start photographing right away. Which blooms are fresh and without brown spots? What colours and shapes are your favorites? Don't even think about your camera until you decide which flowers you want to photograph.
Spend time with them, talk to them (yes, I do) and you'll get much better photos than if you jump in with no plan.


White phalaenopsis orchids at Allan Gardens Conservatory, Toronto.
Your mission is to come home with a few gorgeous, well planned photos... and, very important.... enjoy the process.
Please leave a comment below on what you've learned or any topic you want to know about.  And if you enjoyed this page, it would be super if you'd "like" it.
All this helps me know how to create even more great content for you.
If you liked this page, you'll also like these...