Fine Art Prints - Heron Images

the Beautiful Great Blue Herons
To order either fine art prints or note cards, scroll down the page.

3 Heron Images Make a Handsome Triptych

You've probably seen triptychs in galleries.  A triptych is 3 related images within the same frame but separated by matte or some other means.  I have one more in this series with only 1 of the heron's legs visible and if you wanted the series of 4 heron images, contact me and I'll be happy to oblige.


The Great Blue Heron Fishes For Breakfast In The Same Spot Every Morning
The heron pair share a section of the beach just around the point, behind the Seaview Beach Resort. They keep their distance from each other, scouring the shallowest water on the beach, not infringing on the other's breakfast territory. Ivory and I come across them every morning on our walk but in the afternoon they fly high into the giant evergreen tree in our backyard. And they make an enormous racket. If you've never heard a heron chatting up the neighborhood, you're missing an extraordinarily loud and unappealing chorus. But they always make me laugh.


Vancouver Island has almost every type of ecosystem you can think of... short of desert. Behind me is temperate rainforest.  And in front, there's the beach. It's a natural beach and you'll see all types of seaweed, crabs and shells, lots of driftwood... all beautiful to photograph.

The Island is one of the world's best locales for whale watching.  And at certain times of the year, thousands of seals, sea lions and dolphins come to visit. As well as heron images, you'll be able to get photos of a large variety of sea birds as well as the bald eagles.
If you'd like to look at more seaside photos, there are fishing boats, bald eagles and many other seaside treasures right here.

Note Cards
Note card stock is environmentally responsible, lovely bamboo fiber and recycled paper. All cards are excellent quality Strathmore cards. Right now I'm looking at handmade card stock for future offerings in very special cards. It's quite an exciting undertaking.

| | |
| --- | --- |
| Single Note Cards $6.50 each | |
| | |
| --- | --- |
| Bundle - 3 cards for $18 - (Save $1.50) | Bundle - 5 cards for $30 - (Save $2.50) |
| | |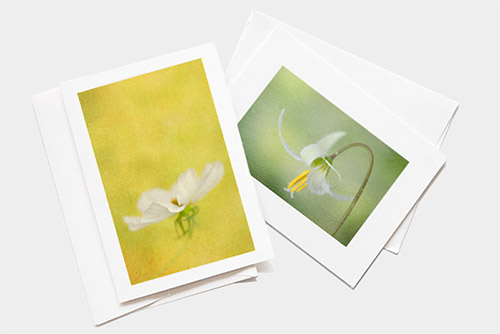 The card stock is 5" x7" and the images are 4" x 6".
Panorama images are not the usual 4" x 6". They are printed to reflect the original panorama ratios and the cards are 5.5" x 8.5".  Some examples of panoramas are on the Seaside page... sunsets and beach landscapes.

Fine Art Prints
| | | |
| --- | --- | --- |
| | Fine Art Print  (8" x 12")  $39 ea. | Fine Art Print (10" x 15")  $65 ea. |
| | | |
Bundle - 3 PRINTS FOR  $99  - (Save $18.00)
3 Fine Art Prints (8 x 12 inches) - the same image or 3 different images

During the PayPal process, you'll have access to a box where you can put your 'instructions to the seller' - that's where you put the 3 code numbers of the prints you've chosen.

Please contact me if you would like to order a different sized print.

Here Are More Pages You Might Like