Seasonal Pictures


... The Ebb and Flow of Light and Life



With seasonal pictures you'll see the constantly changing qualities of light. Like this photo from Butchart Gardens on a mid-summer evening.  This is exactly how it looked in the warm light while the sun was low in the sky.  Everything glowed softly golden.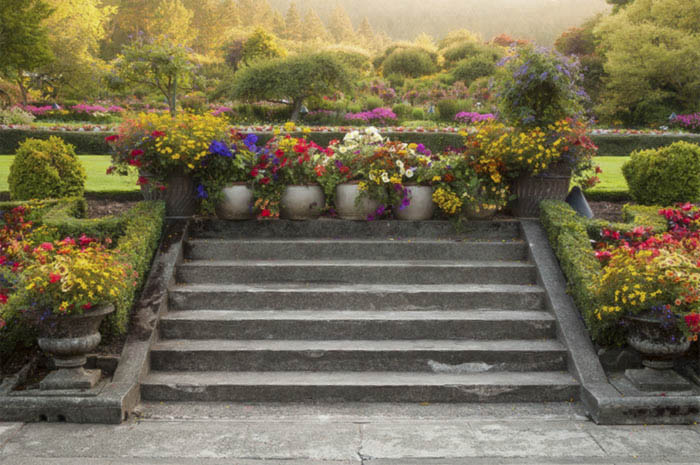 Summer evening golden light on the garden, Butchart Gardens, Vancouver Island. Topaz Impression
Here's a Fun Challenge For You

Have a bit of fun with me. Let's do our own experiment with light for all 4 seasons.

Choose a garden that has lots of light and you can get to easily at any time. We're going to see that light really does change quality by taking our own seasonal pictures of the same scene at different times of the year. 

in each of the four seasons
at the same time of day
all in the same kind of day

My advice is not to pick bright sunny days. Bright mid-day light makes for black shadows with no detail and solid white highlights... boring white skies, for example. Best to choose a bright but slightly overcast day to get a soft even light.


The same scene for all 4 seasonal pictures and stand in the same spot when you take them. Don't pick a dark shady scene.
This is a lesson in light and how fickle its character can be. 

... it's changeable, colorful, and as moody as a hormonal teenager! It's different from morning to night, even minute to minute, and always from season to season.
When you finish your 4 or more photos and examine them side by side, you'll be amazed by what you discover.  Skip down the page and read Sven Nykvist's words that describe light... some good one, huh?  What other words hit you when you study your images?
Do Your Seasonal Pictures Mirror Changes That You Experienced Through the Year?

Nature photographers are sensitive to what's going on around them. What about what's going on inside?
After you examine your past year's worth of pictures, can you compare them to one or a series of experiences you went through in the time you took your photos?
Let me give you my own example. I live on Vancouver Island and winter is not -30 degrees like my childhood in Manitoba. No, it's mild in comparison with only a few snowfalls that disappear within a few days. But, the dark grey, rainy days go on and on and they weigh on my mood.
They call it SAD (Seasonal Affective Disorder) and yes, that's what it feels like. Getting outside in nature is one way of dealing with the depression. I get out twice a day for long walks with my dog, Ivory. We average 10-12 kilometers every day. Winter pictures on a bright day are rare, though we do get treated once in awhile.

As a result, many of my winter pictures remind me of feeling down. If they're photos of the sea lions in a cold choppy ocean, I feel cold and isolated when I look at them. Sometimes, though, the sea lions communicate with Ivory. They put on quite a show... rising out of the water and barking at her. It's incredibly amusing.... belly laugh kind of entertaining.  When I look at those pictures, I can't help but laugh.
And when we walk in the forest, I hardly notice that I walked out of the house feeling SAD. The forest has a unique way of healing and soothing. Perhaps, you've heard about Forest Bathing?
I'm just pointing out how our photos can be a record of our own passages though life. We ought to be taking photos that are meaningful to us, not simply snapping away at whatever is out there. Evaluating your seasonal pictures are an excellent opportunity to decide if your photos tell your stories, and if not... put more thought into how and what you're photographing.

Seasonal Pictures

... Throw a Different Light On Things
Click on any of the pictures to go to Spring, Summer, Autumn or Winter's page.

Spring Pictures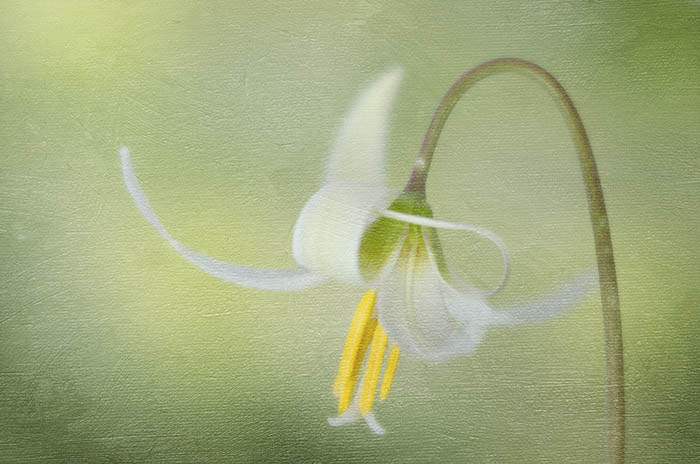 Delicate white fawn lily growing along the Little Qualicum River.
Spring sunlight is soft and warm... perfect for flower photography. And morning or late afternoon light will net you the best pictures.
If the sun's low in the sky, it makes your subject look richer because sidelight brings out texture. Try some close-up shots of leaves, a tree trunk, rocks... you'll see all the tiny details. 
Here are more basic photography tips for the spring seasonal garden here.


Summer Pictures
A beautiful summer day at Fort Debussy Park, Honolulu, Hawaii.
If you're going for the very best light possible, choose a day with light cloud cover.  
There's amazing light early in the morning or later in the evening when the sun is low in the sky.
Don't set up in an area where flowers look wilted and heat-stressed. Find a slightly shaded area to shoot in, but not heavy shade.
Enjoy more summer pictures here.

Autumn Pictures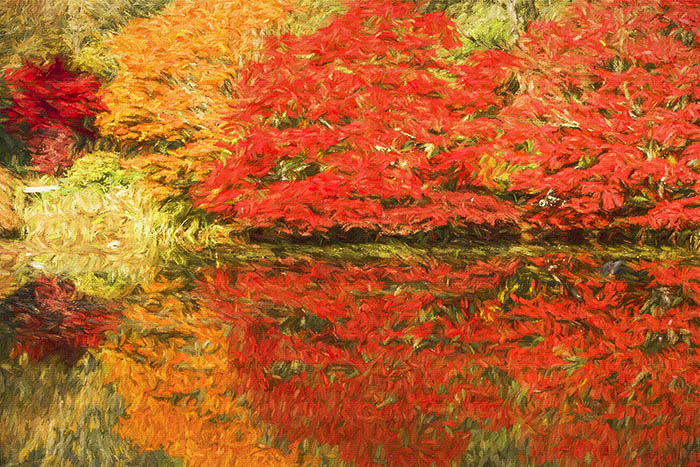 Artistic image - reflections in Heather Pond, VanDusen Garden.
One reason I love autumn photography is fog... incredible colour is another, and, of course, cooler weather.  Stanley Park, Vancouver is wonderful for fog rolling off English Bay.

Fog makes distracting backgrounds disappear, poof, like magic. Water droplets in fog reflect the light in all directions and gives your pictures a gorgeous soft glow. 
Get more tips for seasonal pictures in the autumn garden here.

Winter Pictures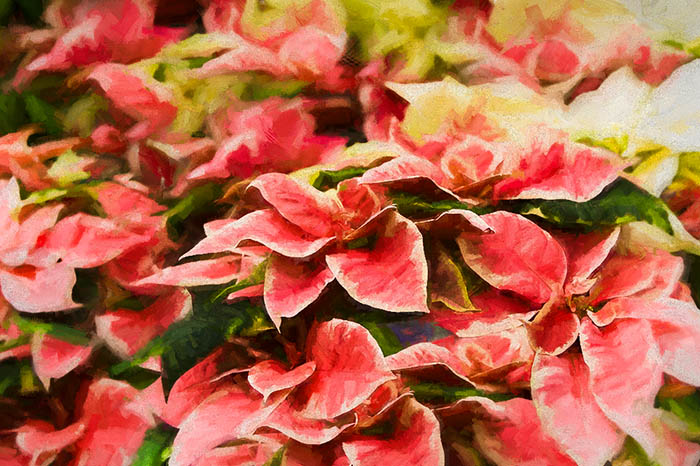 Allan Gardens Christmas Flower Show. Poinsettias say "Christmas".
Try out a seasonal celebration. Very often, they're at night time, so ... dust off your night photography know-how. Check out the local gardens for their festival of lights.

If you can't stand the cold, you can always get a break at a conservatory  (like Allan Gardens Conservatory in Toronto)...and you can stay cozy and photograph till you drop.. or they close and kick you out. That's me on more than a few occasions.... :)
There are more winter pictures, on this page.

I remember the conservatory in Winnipeg, my hometown. Maybe 5 miles from where I lived there were trails I could ski to Assiniboine Park right up to the conservatory door... with camera in my backpack, of course.
Any season is a good time to tune up your skills. Start here with Learn basic photography. 
Learn more about exposure to deal with that pesky white snow. Who likes glistening white snow in their photos? I definitely do.  Don't you just hate icky grey snow photos?


Photo Editing

I use Adobe Camera Raw, Photoshop and Topaz Suite for my images. It's fun experimenting with texture layers and coming up with images that look like paintings. Play with layers and textures or use a painting plugin like Topaz Impression. Corel Painting is another choice.

Many of the photo editing programs come with a free trial so try before you commit to buying. Find out if you really like what it offers and then buy.  ON1 also has a free trial... an amazing and fun suite that stands on its own or use as plugins for Photoshop.
Adobe CC offers a fantastic deal, the Photographer's Bundle.  You can get Photoshop and Lightroom for a monthly charge of US $9.99.  But check out all the packages on their website www.adobe.com
If you liked this page, you'll also like these...

Please leave a comment below on what you've learned or any topic you want to know about.  And if you enjoyed this page, it would be super if you'd "like" it.
All this helps me know how to create even more great content for you.