Seasonal Pictures,
Shooting the Light Fantastic
Take lots of seasonal pictures so you can see the glorious subtle qualities of light. Like this shot I took at Butchart Botanical Gardens in the summer. I used a glow filter when I edited the image, but this is how it actually looked in the warm light of the evening.  Everything was golden!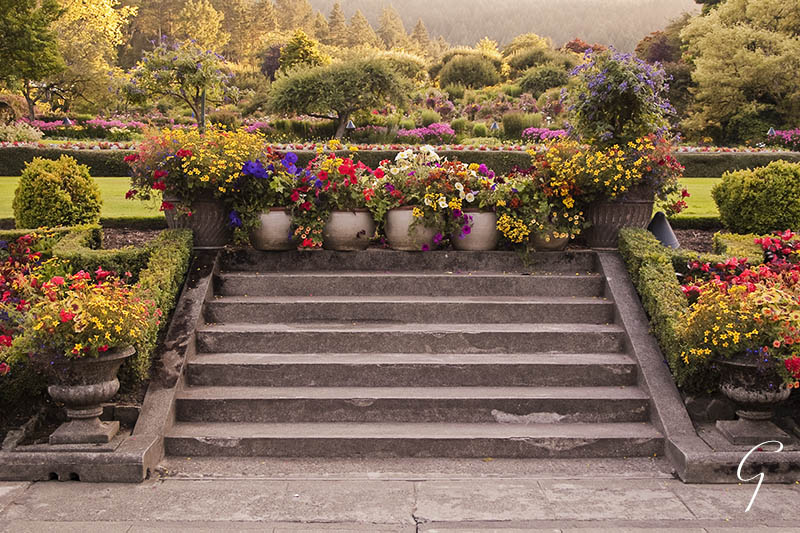 Summer evening, warm light on the garden at Butchart Gardens, Vancouver Island. This photo has a little glow applied and some dark edge vignetting, then a white framing vignette.
Your Photo Assignment for Seasonal Pictures

Use your own backyard if you want. Or a public garden near by. But choose a garden that has lots of light and you can visit in every season.
Your assignment is to take photos of the seasonal garden -
in all four seasons
at the same time of day
in the same kind of weather - either sunny or light cloud cover
Don't pick a bright sunny day. It makes for harsh shadows and blown out highlights. Choose a light cloudy day to get a soft even light.
Stick to exactly the same scene and at the same angle in all your seasonal photos. And remember, you want an area with lots of light.
So what's the point?
Well, it's a lesson in LIGHT... it's changeable, colorful, and as moody as a hormonal teenager!
It's different from morning to night and season to season.
When you finish your 4 seasonal photos and put them all together, you'll be amazed at the differences.
Spring Pictures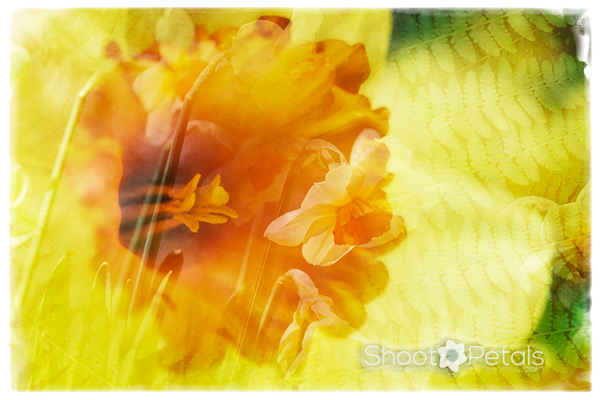 Lovely yellow spring daffodil. Edited in Photoshop, a layer of fern and a 2nd layer of daffodils... Photoshop. A white frame added in OnOne Perfect Photo Suite.
Spring sunlight is soft and warm... perfect for flower photography. And morning or late afternoon light will net you the best pictures.
If the sun's low in the sky, it makes your subject look richer because sidelight brings out texture. Try some close-up shots of leaves, a tree trunk, rocks... you'll see all the tiny details. 
There are more basic photography tips for the spring seasonal garden here.


Summer Pictures

Don't expect great garden photos if you shoot mid-day. That hot summer sun beating down is way too harsh. 
Better to choose a day with light cloud cover.  
The most amazing light is early in the morning or later in the evening when the sun is low in the sky. 
Don't set up in an area where flowers look wilted and heat-stressed. Find a shady area to shoot in.  
Pick up some more digital photography basics for summer pictures in the garden.


Autumn Pictures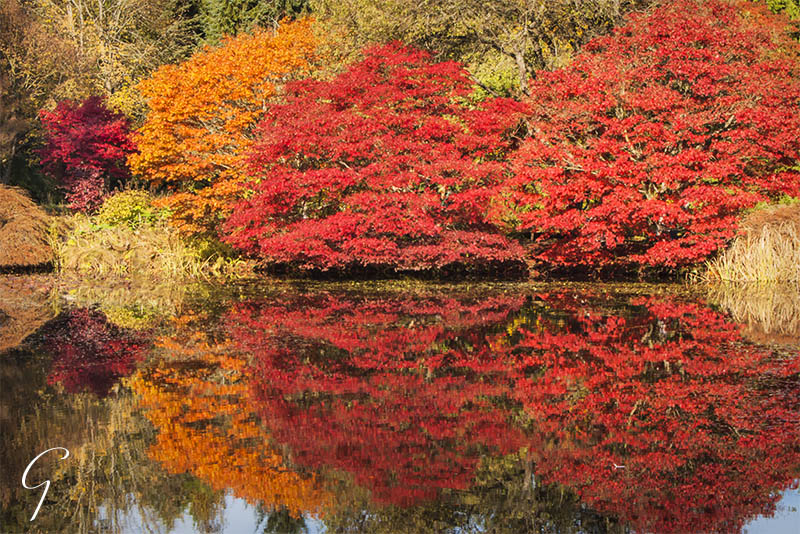 Vibrant autumn colours reflected in Heather Pond, VanDusen Botanical Garden.
There are several reasons I love autumn photography... fog is one, incredible colour is another, and, of course, cooler weather.  Stanley Park, Vancouver is my go-to place for fog.
Want to get rid of a distracting background? Fog's your ticket!
The water droplets bounce the light in all directions... evens it out and gives your pictures a soft glow. 
Get more tips for seasonal pictures in the autumn garden here.


Winter Pictures

Do you get a snowy winter where you live?
Shooting pictures in snow has challenges that are easily overcome with a few simple tips.  Do your snowy seasonal pictures come out gray instead of white? Easy cure.
How about some night photography? Check out the local botanical gardens for their seasonal celebrations, like a festival of lights, or... 
You can always get a break from the cold at a conservatory... and you won't freeze your fingers off!
Learn basic photography skills for getting creative seasonal pictures and shooting in snow.


---
Try out some photo editing... you'll be amazed at what a creative genius you are!
I use Adobe Camera Raw, Photoshop and ON1 Perfect Photo Suite for my images. It's fun experimenting with textures and framing effects... adding them together with layers and trying out different blend modes. Playing with layers and textures is a lot of fun and a way to make your images more artistic.

Many of the photo editing programs come with a free trial so try before you commit to buying. Find out if you really like what it offers and then buy.  One of the best deals is ON1...

Go to On1 Software and download their free editing programs. You don't have to purchase their most recent programs to use the freebees. Click on Downloads  and you'll see Free Products. 
It's true! ... the programs are totally free. And they have super duper training videos and webinars.  They aren't paying me a cent to rave about them. That's how much I love their programs!
If you're intimidated by Photoshop...  it does have a steep learning curve... you'll love ON1 Perfect Photo Suite.  Adobe CC is out now and it's a cool deal.  If you have any Photoshop program from CS3 onwards, you can get Photoshop and Lightroom for a monthly charge of US $9.99.  But check out all the packages on their website www.adobe.com
Just begin with any photo editor of your choice and send me your best!  "The journey of a thousand steps..... "
Ciao for now.


Please leave a comment below on what you've learned or any topic you want to know about.  And if you enjoyed this page, it would be super if you'd "like" it.
All this helps me know how to create even more great content for you.