Botanical Gardens


... Full of Garden Treasures!



Botanical gardens - nature's outdoor treasure trove for pictures of gardens and flowers and tons more gold nuggets .
Get a handy-dandy membership and fix a date with your camera for some amazing flower photography. Make a point of getting there in every season for an array of gems.
International Botanical Gardens

Many of our local botanical gardens have themed gardens from other countries. That's a bonus... to experience the flora and designs from across the sea right in our own backyards. Still, some of use just have to travel, we can't stay still for very long. Here are a few of the gardens I've been to. Keep coming back because there are so many more I have to add.

Canada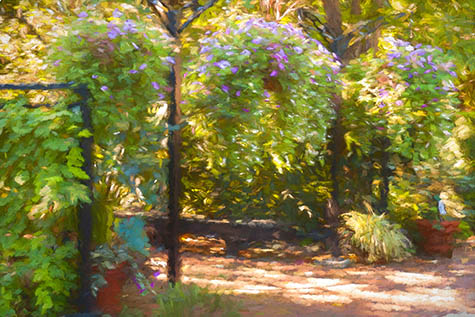 Park & Tilford Botanical Gardens, North Vancouver, BC
VanDusen Botanical Garden, Vancouver, BC
VanDusen and Park and Tilford each have a wonderful
Festival of Lights in November & December. Take a look.


University of British Columbia (UBC) Botanical Gardens
I hope you'll visit my home area, BC and Vancouver Island. If you do, you'll be walking among  some of the most beautiful gardens the world has to offer.
Hello BC has all the information to point you toward the best of the best flowers and gardens.

South Korea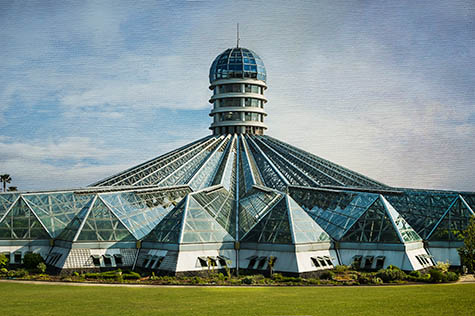 Yeomiji Botanical Garden Jeju Island - Centre Hall & Observation Tower (1)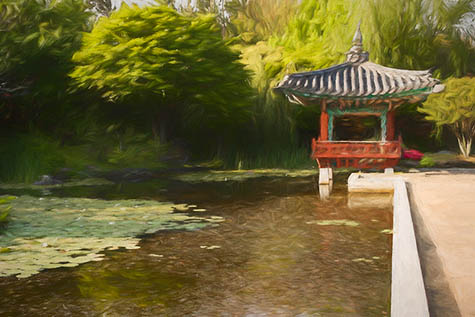 Yeomiji Botanical Gardens, Outdoor Gardens (2)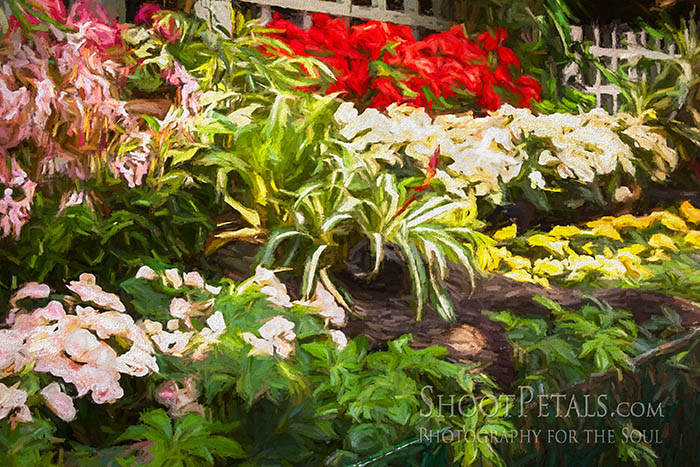 Yeomiji Botanical Gardens, Indoor Gardens (3)
Thailand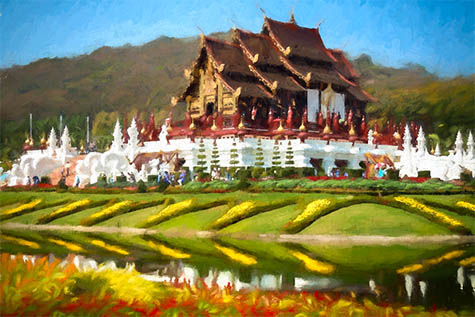 Royal Flora Ratchephruek, Chiang Mai, Thailand.
United States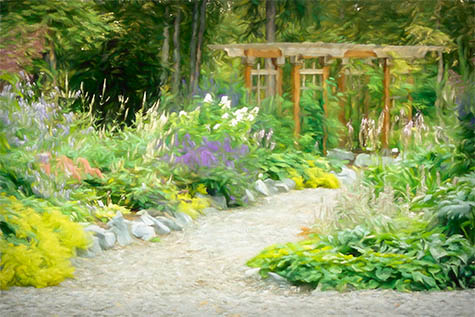 Alaska Botanical Gardens, Anchorage, Alaska.
Foster Botanical Garden in Honolulu, Hawaii.
Memberships mean free entry and discounts at the garden - in the gift shop, for instance.  You'll also be helping them to make their gardens better!
Sign up for garden newsletters so you get information early enough to plan attending events.  Always be thinking about great garden photos ideas.
Use your membership with your local garden! They've got educational programs, a garden gift shop and garden craft shows. They're a good place to generate income from your flower and garden photography.
Even if you only want to enjoy your hobby and not build a business, your membership is still valuable.
They hold flower shows and competitions and garden tours so you can learn more about the garden. That will be helpful in planning out your pictures or videos .
When you've finished with your camera, take some R&R in their garden restaurant with tea or lunch.  Nothing as sweet as ending your day just peacefully peering out over the gardens after a day of photographing. 


The formal rose garden, Butchart Gardens on Vancouver Island. Butchart is not a botanical garden. Click the photo to see other gardens.
Map Out the Photos You Want In the Garden


These gardens are the best for variety when you're learning how to photograph flowers and gardens. There's so much ground to cover, and an enormous variety of plants and terrain. Though, It can be... well -- a bit daunting!
In just one day and one garden you can photograph the gardens of Europe, Asia and maybe Central America! 
Plan on an entire day, take your time, concentrate on your photography skills and getting quality images.
Sometimes I walk the entire garden quickly before shooting even one photo. That way, I see what's really important to me.  If there's time left, I can go back to anything I missed.
But start with a plan in mind and that means -- research the garden  before you go.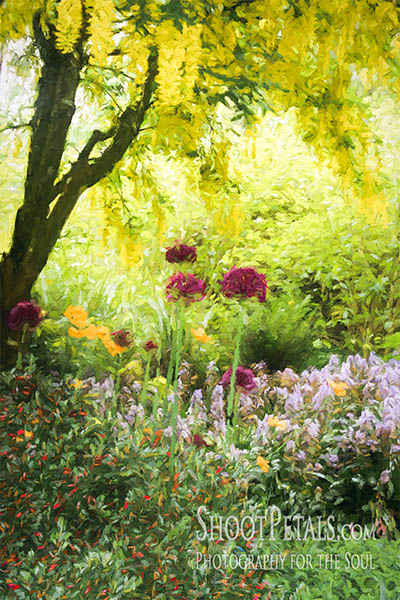 VanDusen - the Laburnum Walk. A mellow yellow scene. Scanned from 35 mm. slide.
Read every page of the website... get acquainted!
Check for a map and explanation of the garden and sub-gardens.
What plants are blooming now?
Can you catch a special event or display?
Are there lakes and ponds? Any water plants?
Is there one area  that grabs your attention?
When are the garden tours?
What about a restaurant or cafe?
Believe me! Water's cheaper to bring along with you. Fill your own bottle so you don't add to the plastic pollution.
What hours are experts available to answer any questions?
Start With a Garden Tour

Most large public gardens have volunteers who know the gardens very well. They usually do guided tours. Go on one. You'll get all your questions answered about the plants, sub-gardens or the garden's history. They're  usually free.
Volunteers are full of information. They always seem so cheerful --must be the environment! Consider volunteering a little time yourself.
In one form or another, education is a huge money-maker for botanical gardens. Courses are reasonably priced and usually discounted for members.
If you're interested, check online for a course list.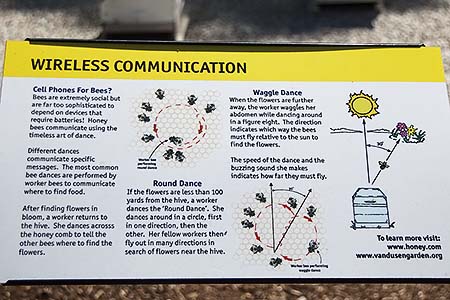 VanDusen Botanical Garden has several bee hives with the story of how bees produce honey. I like to take pictures of all the information. Otherwise, I'll forget it all by the time I leave the garden!
Hopefully you'll find a garden photography course. A lot of class time will be in the garden photographing and getting practical experience. Great way to spend a day.
If you'd like to teach and you've got the knowledge and talent, why don't you check into the requirements?
Maybe you can catch a garden flower show and competition. Grab the opportunity and your camera! Those blooms have been nurtured like no others. Pssst -- Don't forget to write down the names of the plants you photograph.
The horticulturalists can tell you all about those unfamiliar plants you were photographing in the garden last week! Always good to have a story to tell when you show off your flower photos.
The Garden Gift Shop

The garden gift shop... I never feel guilty about blowing my budget there. My dollar is supporting local craft people, the environment and the green way of life I believe in!
Unique jewelry and ceramics, garden gadgets and tools, bird feeders...  And you can often get specialty books you won't find in general book stores.
I have a fetish for all things tea, so I head straight for the 'tea-in-the-garden' section. My tea cup collection is getting way out of hand!
Here's a potential opportunity to make some money and put your name out there -- think about being represented in the gift shop. Browse everything on display. What photo crafts could you supply? Flower note cards, garden posters, flower calendars?
Ask at their administrative office to speak to the person in charge of commissioning items. She'll advise you about what they do and don't need. Then she may invite you to bring some samples for her to consider.
Botanical Garden Craft Shows - Sell Your Garden Photography

The craft show - another option for enjoying the day or making some extra cash.
Chat up the local artisans and learn about their craft. Indulge yourself with something unique and extravagant.
Seek out the photographers and talk flower and garden photography. The vendors love to chat about their work. Go home with new ideas and put them into action. Start by making your own personal collection of garden and flower note cards.
If you decide to try your hand at craft sales, keep these things in mind..
Start small because you don't want to invest a fortune in something that won't sell. You have to recover the cost of your booth and your photography materials before you make any profit.
Craft shows are demanding both in preparation and in time spent at the show itself. You don't get much time to browse other booths and see other artisans' work.
Do you have a solid knowledge of business practice as well as a quality product?
If you're an introvert and you find crowds stressful, craft shows won't be your thing. They're for the highly social animal who loves crowds and talking for hours on end.
A booth at a large botanical garden in a well-run craft sale can be very expensive.
And the craft show will probably be "juried" -- meaning that your photography has to be approved by a committee. They have a reputation to uphold and after all, it's a business for both of you.
I've made up some flower photography notecards ... and gone 'green'. Use environmentally friendly card stock that Strathmore puts out. The quality is excellent. 
If you liked this page, you'll also like these...