Learn More About Me
Here' my chance to tell you all about me... Glenys Morgan. I grew up on the Canadian prairies, Winnipeg to be exact, where the mosquitoes are the size of torpedoes and the winters are so cold your pee freezes before it hits the ground!
Those minus 40 winters really challenge the prairie gardeners. But great Manitoba gardens aren't only possible... lots of them are downright outstanding!
At that stage of my life, photography wasn't really an interest, but flowers and gardens were!
If you didn't guess from my name, my background is Welsh! Knowing more about me starts with my mother... she was a horticultural student in Cardiff... her passion rubbed off on both me and my sister.



This picture is a real old treasure! Here's my mother in her family garden in Cardiff. Its hand colored - popular in the early years of photography. I don't know the year but certainly before WWII.

The lupins are wonderful but I can't tell you what type of flowering tree this is.

Hand coloring photographs is currently in vogue - it never went out of style - but with digital cameras and photo editing programs, it's a lot of fun to play with painting and colour.

I had 40 acres outside of Winnipeg before I started working overseas many years ago. Mostly bush. I had a dozen or so Siberian Huskies and several other four-footed friends. I was VERY passionate about my animals and my garden!
You can't talk about me without talking about Siberian Huskies. See these cuties? They were a whole bunch of mischief! Here's Fleet, Patch and Beau. Some days they made my gardening impossible!
I'd lovingly set my spring plants in the soil, sit back and proudly survey my new garden. Then a whirlwind of puppies would tumble across the yard, rip the closest plant up by its tender roots... shake it furiously like their favorite tug-of-war toy. In the end they'd drop it on the ground, MANGLED.
But they were so darn cute! .... don't ya' think?

Fleet, Patch and Beau - Snowalker Kennels - Glenys Morgan
They weren't the only challenge to my gardening! Living in the bush makes for a lot of work.  A constant battle to keep the wilderness on the other side of the fence. So weeding was a daily task. Lucky for me, the summer days are very long in southern Manitoba and gardening till 10:30 at night was normal for me.
Then when the days got shorter, I wore my headlamp. Same one I used on dark winter nights running my dog-sled teams in the woods!
Livin' a country life changed a lot about me.

The fox family that lived at the back of my garden. The mischievous young red fox pups that stole my towels and runners every summer. Then there was the hawk that dropped the baby rabbit in my garden, almost on my head!
And those Christmas blizzards! Ever made snow angels on a sunshiny morning after a huge storm?
Springs that brought those magical ruby-throated hummingbirds back to my garden.
Late winter also meant new angora goat kids to care for! I was a "crafty" person... a spinner and knitter with a herd of 14 goats in the barn. Not much about me was a farmer to begin with, but the transformation didn't take long.

All baby animals are cute and cuddly but these little balls of energy kept me laughing hour after hour. What characters... and fantastic bush clearing machines!
I spent about 8 years on that farm before going abroad. And every morning I was so grateful to be living in my own little piece of heaven.
The transition from my animals and living in nature to overseas was excruciating.
The second chapter of my life... moving abroad.
I cried myself to sleep many nights. I felt lost without my dogs and my garden. Nothing about me felt complete without them. New doors opened up in my life...
In Saudi, my outdoor gardens just died on me. You can imagine 50 degree Celsius summers! Winters were wonderful but for some reason the tomatoes - and any other edible plants- died off.
So I resigned myself to making my home a greenhouse. And that worked out great!
I haven't mentioned photography yet.... that's coming!
After a couple of years I paid off all my debts. Time to celebrate. Now I had a husband who loved to travel. After a couple of trips to Europe, everything about me was hooked on travel!
I missed my dogs like crazy, but I was free as a bird now without them. Plus I had money for the first time in my life.
Several trips later, only some purchased souvenirs to show for it... and the memories of course. Don't know how many times I thought "I'll never forget this". And guess what? A few days later - those moments were gone from my mind. So silly that I didn't capture them!
I'd had inexpensive cameras ever since I was in grade school. Time for a new camera! I picked up an Olympus SLR that stayed with me through photography school several years later. Loved that camera! And I started recording everything because every day in Saudi was exciting.
I joined a weekend nature group... 4-wheeling adventures searching for desert bounty.

Those off the beaten track weekends were a blast. And we discovered gems you couldn't imagine sitting in your living room!
As well, my hospital's rec center had the best weekend and in-country vacation trips! Saw every nook and cranny of Saudi Arabia AND saved it all on film!
And I really enjoyed writing long stories home all about me and my adventures... that was before email came on the scene. Remember sending letters via snail mail?

Hey, I bet you thought Saudi was just a big barren sandbox. No way! The spring desert pops with plant life.

These hardy flowers are desert hyacinths and that year they were plentiful! It rained long and hard that spring - we even got stuck in "bog" a few times.
Looking through my camera lens.
I saw the Middle East, most of Europe, Turkey, and West Africa. And carrying a camera has a way of making you brave! I wasn't used to travel and a bit shy. But meeting people became easier, more natural, with a camera as my "middle man". It recorded people, their crafts, gardens, their history.
My pictures weren't too shabby, either. A few were downright excellent. I had a good eye but no real knowledge about photography. Eight years in Saudi was enough. I wanted to go back home to Canada and study photography.
Working for the King had its perks!
Working at the King Faisal Hospital had its privileges - like almost unrestricted internet. That was a huge plus in a place like Saudi where normal daily life activities are spelled "NO". 
I figured my next move out with the help of the internet. I was headed to Vancouver for photography!
After a few months diversion, that is! Landed at my sister's in Ontario, picked up a 4-wheel drive and set off across Canada to the Yukon and Alaska. Now that's a trip and a half! I'd flown to Alaska several times but this trip was special.
Canada is HUGE... the hours upon hours driving alone, and wandering through the Midnight Sun - that nearly drove me mad. That constant light teases you through the curtains and rest was really hard to come by. My adrenaline was all that got me through weeks of sleep deprivation! But the magnificent surroundings... WOW!
All about me there were amazing panoramas of nature, flowers and wildlife in the Yukon and Alaska. Surprising when you think of the short growing season. But they say that the length of day more than makes up for the shortness of summer. After that trip, I have to agree.
Unfortunately, as with all good things, the months whizzed by. A long hard drive back and...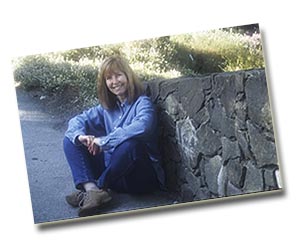 There I was - YIPPEE - Vancouver and photography school.
Now you know so much about me, you know that Vancouver has everything I want, the Rocky Mountains, nature everywhere, glorious gardens and a temperate rain forest climate.
Stanley Park, Queen Elizabeth Park, VanDusen Botanical Garden - a photographer's dream come true.
Here I am in VanDusen taking a picture of myself for a class project!
Three years later... an honest to goodness photographer! And true to form - my feet got itchy again. This time, Asia seemed like a good bet. Landed a job in Korea. What better way to get some travel photography experience?
I really didn't plan on staying 7 years but I had a good job. Near the end, I did lots of soul searching. My enthusiasm just wasn't what it used to be. I needed to get out of that fog!
Followup (January 2015)... I went home after 8 years and stayed in Vancouver for a year.  And I came back to Asia for 3 1/2 more years.  Now I'm about to head home to Canada again. I'm bringing  2 dogs with me... sure didn't plan on getting dogs here but they're my buddies and I'd never abandon them!  So we're all off to Canada in another 4 weeks.  Future plans... a year in Vancouver or on Vancouver Island, and scoping out Costa Rica as a home base.  Plenty of incredible photography to be had there.  I'm so excited to get on with the next chapter!  I'll fill you in on where those plans go... TTYL.

The answer came to me in the form of SBI. And the timing couldn't have been better!
Make a living from a website?  Really?




It took me awhile to make a decision. Its hard to sell me on anything! So I researched a lot first.

But SBI offered everything I needed. I wasn't a computer geek, even though I do have pretty good skills. I'd taken a course in HTML and found it so overwhelming!


SBI looked so easy... it made me even more skeptical. But I went with my intuition and that nagging desire to be my own boss and make my own dreams come true.

Not sure what it is about me but I'm not one for a regular day job - every day, same tasks, same hours! Don't mention commuting!
I've done more than my share of clutching the steering wheel, eyes glazed over, heart racing... inching through a prairie blizzard. Rush hour traffic. Fighting a headache till lunch time. Doing it all over again in reverse! Yuck!
I finally took the SBI plunge!

My website definitely isn't a "throw it together in a day" project. Not by a long shot. A great content website is a hefty commitment. SBI talks a lot about going at tortoise pace - building slow and steady. So anyone who wants a quick fix, SBI wouldn't be your cup of tea.
Another good way I get back on track is to watch some videos and read other SBIers' stories. If you want to see how other people have achieved their goals, read a few of the inspirational Case Studies of SBI Owners.
If you think you'd like working at home on your own website, bringing in either some part-time income or going for the full Monty, go here to SBI's homepage. You'll find all the information you need to make up your mind.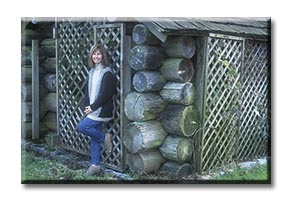 AND working at home... or searching for gardens all over the world! Now you know a whole lot more about me, and I really hope you join me on my garden travels.
Yes, sir! That's my kinda' job!
See, I'm smiling! :}
Most of us have to work so you might as well invest your time and energy into something you're really geared up about. Then it doesn't look as much like darned hard work!
So what motivates YOU?
This page about me should inspire you to think about what you'd really love to do in life. Because, as Helen Keller said...
"Life is either a daring adventure or nothing at all."
I really wish that adventure for you, too!
Please leave a comment below on what you've learned or any topic you want to know about.  And if you enjoyed this page, it would be super if you'd "like" it.
All this helps me know how to create even more great content for you.