Seaside, Vancouver Island

...
Fine Art Prints, Note Cards - or Both!
Living seaside here on the Island gives me constant opportunities to photograph. Life on the beach always leaves me in awe, like two winters ago when thousands of loud, playful sea lions took up residence right outside my front door. Along with the naughty river otters who lived under my cottage and kept bringing home stinky fish... whew!
The catch of the day could be a set of note cards with photos of our beach treasures.  Share your experiences... purchase enough cards to send to your friends and relatives who can't be here with you.

Along with the sea life, the seafood loving bald eagles come to stay over winter... and they come by the hundreds. Here in the Georgia Strait, the fishing is excellent for these savvy predators. A few pairs stick around all summer so there's year-round opportunity to catch them with my camera.

Where there's wild salmon, there are fishing boats! This is my favourite picture of the boats out on the Strait.  Print or note card, this photo is fabulous.


Deckle note cards with painterly image of fishing boats in the Georgia Strait.

Fishing boats
These images were taken during the chum salmon run in late winter.  We counted more than 60 fishing boats out on the Strait that day.

Animal life
I thought you'd like to see this video... a particularly wonderful winter for sea lions off Vancouver Island. This is when I got my best photos of these vocal, playful creatures. They had a friendly relationship with my dog, Ivory and watching them interact was my favourite pass-time. Enjoy!

Note Cards
Note card stock is environmentally responsible, lovely bamboo fiber and recycled paper. All cards are excellent quality Strathmore cards. Right now I'm looking at handmade card stock for future offerings in very special cards. It's quite an exciting undertaking.

| | |
| --- | --- |
| Single Note Cards $6.50 each | |
| | |
| --- | --- |
| Bundle - 3 cards for $18 - (Save $1.50) | Bundle - 5 cards for $30 - (Save $2.50) |
| | |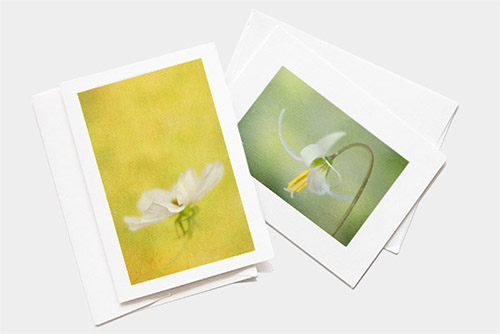 The card stock is 5" x7" and the images are 4" x 6".
Panorama images are not the usual 4" x 6". They are printed to reflect the original panorama ratios and the cards are 5.5" x 8.5".  Some examples of panoramas are on the Seaside page... sunsets and beach landscapes.

Bird Life
Fine Art Prints

The painterly photo of the 4 boats in the first image was printed on canvas a few times and it's gorgeous with the added texture of the fiber. 
If you're interested in Giclee or canvas prints for any of the images, contact me to let me know the size you want  I'll get back to you with the cost.
| | | |
| --- | --- | --- |
| | Fine Art Print  (8" x 12")  $39 | Fine Art Print (10" x 15")  $65 |
| | | |
Images printed on premium quality Fine Art Matte Paper
Seaside - Beach Treasures
Panoramas



#PANO_01

Note cards &
Fine Art prints
Panoramas



note cards 8.5" x 5.5"
You'll Also Like These Pages...