Yeomiji Botanical Garden

... Introducing Asia's Best
Yeomiji Botanical Garden  (say it "Yuh-me-jee") is the major player of five official South Korean botanical gardens and arboreta.  Not only do they claim to be the best botanical garden in all of Asia but they are the largest in the world.
They tell you on their website that they exchange seeds with 180 botanical gardens in 130 countries. In other words, they're paramount in the garden stratosphere.

As for their name, Yeomiji means "a beautiful land". What a perfect description!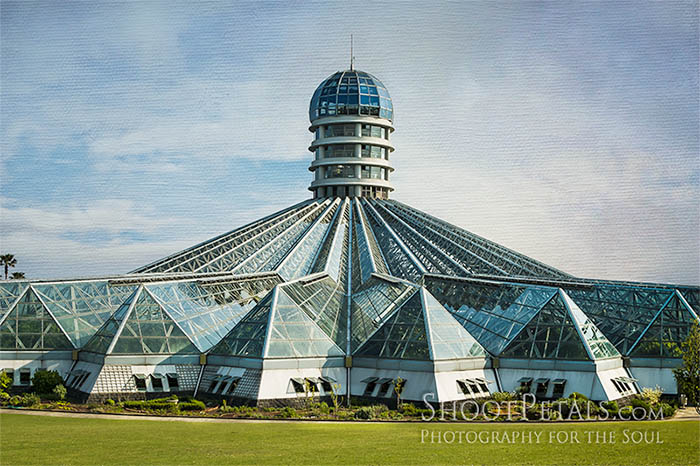 Yeomiji Botanical Gardens - Observatory, Central Hall and Indoor Greenhouse Gardens. The place to start.
Since I haven't been to every one of them, I can't really say.  But I can tell you that it's a botanical garden not to be missed.  You'll be euphoric with the bounteous conservatory, greenhouse and outdoor garden displays. 

Devote a few days... not a few hours... to this bit of heaven.



A cheerful little train that's on duty all day chugging through the garden.... it parks inside the gate at the garden entrance.
Jump on, take your seat and the man will come and take your money for your ticket. Adult tickets are 1,000 won or approximately a dollar.

I went on the train tour my first time at the garden just to get my bearings. It takes about 15 minutes and while I was chugging around the garden, I planned out my walking tour.
It's always a good idea to go on a quick train tour before you go off on a hike with your camera. Even more important if you have limited time to spend here.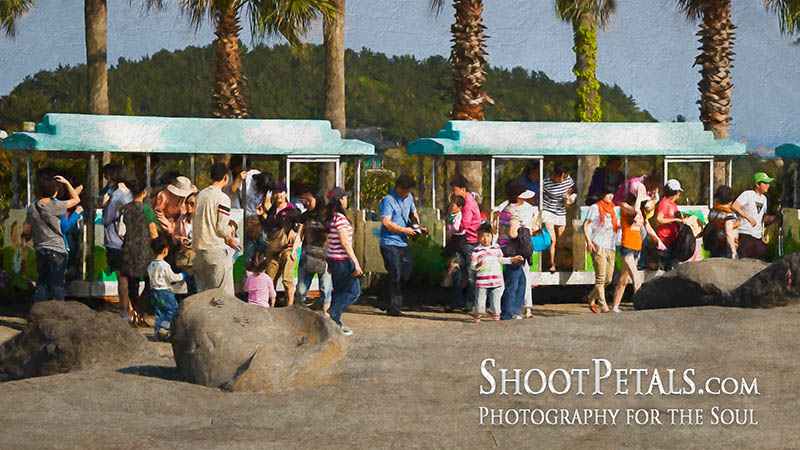 The train in front of the Centre Hall and pool. First, go on a tour of the entire garden.
The last leg of your train tour chugs through the hydrangea walk... so gorgeous when they're in bloom!  That might be a good start to your walking tour of the outdoor gardens.  Or, go inside and spend a few hours in the Centre Hall and the 6 indoor gardens.
If you only have one day, schedule two hours for the Centre Hall, another two for each of the indoor and outdoor gardens. That's at least a six hour day. Seriously, though... devote a couple of days!

If you aim to visit, do an online search for Jungmun Resort for maps, activities and hotels to plan a totally fabulous vacation.
I advise against July and August when school's out and the resort is super crowded. That, as well as the summer is steaming hot and humid. Spring or fall is a more comfortable choice on both counts  :) . 

"These gardens rock!"
The beautiful, dark Jeju Island volcanic soil starts with the volcanic basalt rock from Halla Mountain which is abundant in minerals and organic matter.

The soil is a delectable, moist, profusely aerated soil concoction that the subtropical and temperate plants of Jeju Island thrive in.
For a look at the Yeomiji Botanical Garden website, click here.


Yeomiji Botanical Garden Observatory and Centre Hall
The main building is a centre hall, an observation tower and five adjoining greenhouses that accommodate 6 indoor gardens:

the flower garden
the aquatic garden
the cactus garden
the jungle garden
the tropical garden and,
the fruit garden
There's so much ground to cover in the indoor glasshouses, so I put together a separate tour for them as well as a section on the outdoor gardens.

In the Centre Hall, there are different seasonal displays depending on the time of year, and a Mystery Garden.

From above, the entire structure looks like a pointy sunflower, but from the ground, it looks a lot like a UFO. :)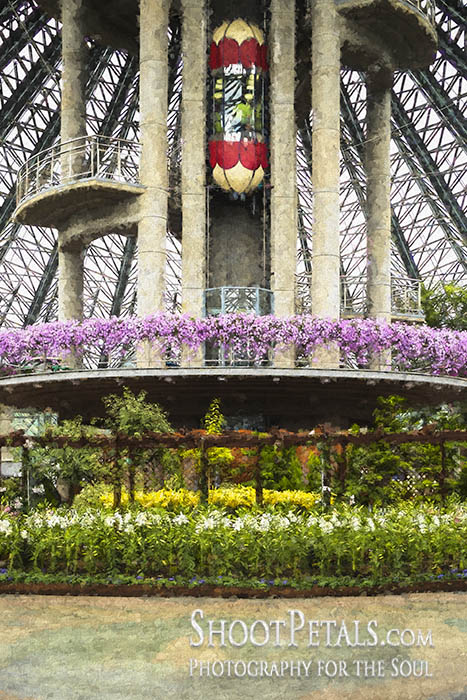 The Centre Hall with gardens and colourful elevator to ride 38 meters up to the observatory.
Terrific place to take a portrait.... with the spring floral display as a backdrop.
We're in the central hall and it's usually very busy. I waited till it was closing time to take some photographs when most of the crowd left.

I love the little pod elevator. Step aboard for the 38 meters to the top of the observation tower. Check out the 360° panoramic view of an adjoining golf course and the outdoor gardens at Yeomiji Botanical Garden.  Halla Mountain is in the distance, too.
On a clear day, you might be lucky enough to see the tiny island of Marado about 8 km off the coast.

Now back to the Centre Hall... I just walked in and sat down on a bench to sort out my camera and lenses. There was a little something hovering and humming right beside my arm.  
I thought it was a hummingbird. But it couldn't be. This little critter didn't have a beak, he had a long, thread-like siphon that shot out into the flowers. (It's called a proboscis.) When I got back to my hotel I looked it up on Google and found out exactly what it was... a hummingbird hawk moth.
(Family) Sphingidae - Hummingbird Hawk Moth's scientific name is Macroglossum stellatarum

That was my first encounter with one of these tiny "whirlybirds". The first of several meetups with hummingbird hawk moths in Korea.



For the rest of the story on the hummingbird hawk moth I met here, visit my Jeju Island page.  
And visit the Nature Canada article on the Hummingbird Moth.


Fine Art Prints and Note Cards

Most of the images on this page, as well as many more beautiful flowers from all around the world, are available as both prints and note cards. Browse and find your favourites. Click on the images below to see what's in the print shop..

Now I'm living ocean-side on Vancouver Island. So, you'll also find lots of impressionist images of the fishing boats, sea shells and our indigenous animal life as well as the flowers. I give my photos a painterly touch and I hope you enjoy the artistic twist.

If you would like a picture that you don't see in my "print shop", contact me and I'll be happy to let you know if it's available in the size print that you need or as a note card.

I'm happy when people appreciate my work. If you have a comment, please leave one at the bottom of any page or contact me.


If you've got some extra money, there are several booths in the Centre Hall with traditional crafts and jewelry for sale. Korea purchases raw amethysts from either Sri Lanka or Africa and they're processed in Seoul. Artisans craft them into silver jewelry and there will most likely be a booth when you visit.
Another treasure is pottery made of dark brown 'clay' native to Jeju Island. The volcanic soil gives it some unique properties and the vendors will be more than happy to tell you all about it.

Usually there's a seasonal exhibit in the centre hall at Yeomiji Botanical Garden as well as year-round garden displays. Here's a painterly image of a Star Gazer lily in a large exhibit in late June. Do you know why the Star Gazer is unique among the true lilies?  Hold onto that thought.... I have to finish the page on Lilies and I'll tell you the story then.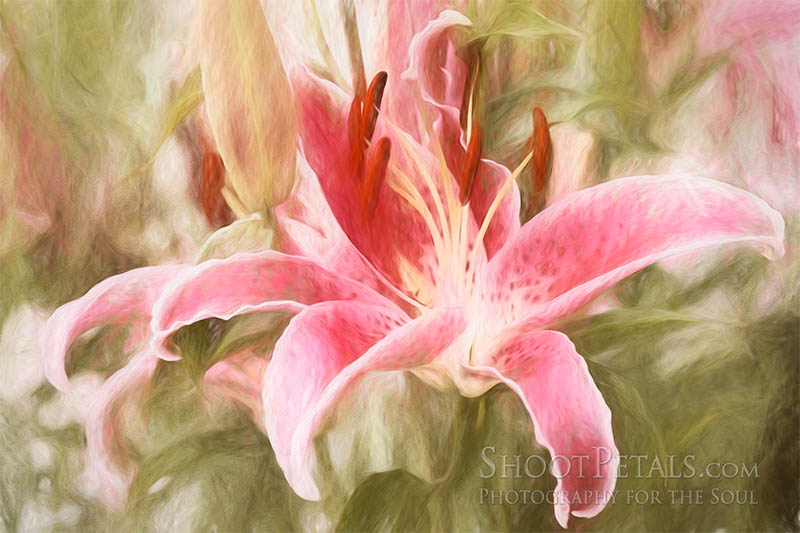 Painterly photo in an exhibit of remarkable Star Gazer Lilies. A spring display in the Centre Hall.
Often, just inside the main entrance exhibits, you'll find the Old Grandfather stone statues. The Dol Hareubang stone statues are the guardians of the Island... carved out of porous volcanic rock. 
I have some slides from an exhibit but they're somewhere in my storage room!  Once I find them, I'll scan them and run through Photoshop. I know they're there... hiding for the moment.


Wrapping It Up In The Observatory And Centre Hall

Visit the posh Jungmun Resort (say it "Jung-moon") on the southwest Pacific shore of Jeju Island. It's about a 50 minute drive from Jeju City on the north side of this small island. It's worth the trip from Seoul, less than an hour's flight, so make every effort to work it in if you're going through Incheon.

Yeomiji Botanical Garden is part of the resort and within walking distance from all the major hotels. Give it at least a full day, better two... one each for the outdoor gardens and greenhouses.
For the best photography experience, take along your tripod. You may be dodging crowds and it makes life easy to set your camera up for your shot and then politely wait out any people blocking your picture. 
Most of all, this is one of the most amazing gardens in the world... so enjoy every minute of it.

If you liked this page, you may also like these...