Exotic Jeju Island  

... A Small Island of Immense Garden Gems
Jeju Island is one of my favourite destinations. I go quite often, but so far only in spring, summer and fall.  I regret not getting there in winter.

The gardens are prolific.  All along the highways in the spring and summer there are thousands of hanging baskets of gorgeous flowers.
Jeju-do, sits in the Pacific just off the southern shore of South Korea and it has the perfect climate for tropical flowers.  Too hot and humid for my liking, but the plant life thrives.

 It's my favourite island paradise, small but....
Good things come in small packages!
Think you'd like to visit?  Get more information here at the Life in Korea website.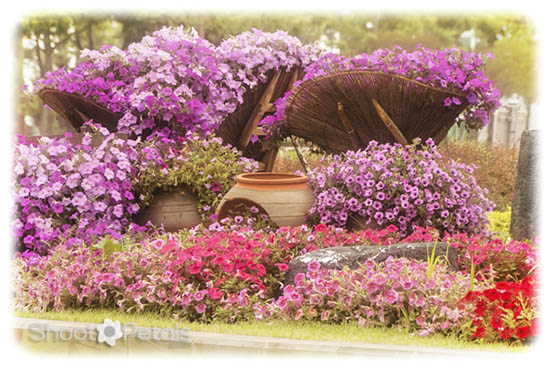 A fabulous display of pink flowers in front of the Jeju Island International Convention Centre. There are always flower photography opportunities here.
Fine Art Prints and Note Cards

You can order images on this page, as well as many more beautiful flowers from all around the world are available as both prints and note cards. Browse and find your favourites. Click on the images below to see the collections.

You'll also find lots of lovely impressionist images of the fishing boats, sea shells and our indigenous animal life here on Vancouver Island as well as the flowers. How do you like the artistic touch I give my photos? The unique painterly style is a reflection of how I feel about the scenes.
If you would like a picture that you don't see in my "print shop", contact me and I'll be happy to let you know if it's available in the size print that you need or as a note card.

It gives me great joy when I know that others appreciate my work. If you have a comment, please leave one at the bottom of any page or contact me.

The Pavilion is on the top of the hill overlooking Cheongyeon Waterfalls and the Bridge of the 7 Fairies. Yeomiji Botanical Garden is next door!

The picture below is Halla Mountain in the distance and the foreground is the massive volcanic rock that creates the fertile soil on the island. In the spring, the island is covered in cherry blossoms and brilliant yellow canola fields. All around Halla Mountain, the landscape is electrified with fuchsia azaleas. Spring is the the most colourful time to visit... with your camera!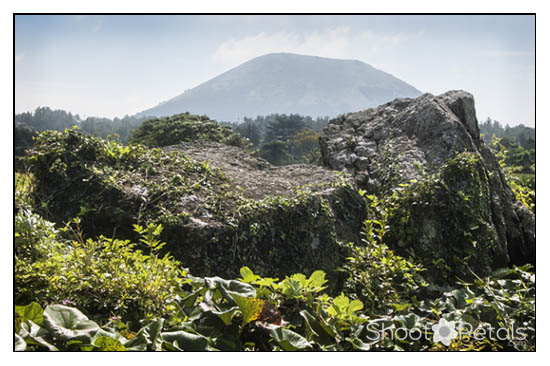 Halla Mountain is the volcano responsible for the rich soil on the Island. Squashes and other vegetables grow among the volcanic basalt rocky soil.
Jeju Island Climate
Before you visit, here's some information about Jeju Island's climate. The summers are scorching hot and humid and Jeju Island is the warmest and wettest place in Korea.
Fall is best - the temperature's warm but humidity and rainfall are down.
Monsoon begins late June through July. Heavy rains and thick fog might last into August. These torrential rains can really "put a damper" on your photography. Take my word for it - being caught in a monsoon deluge is nasty - and definitely not healthy for your camera equipment.
Summer is incredibly hot and humid on Jeju Island so prepare to sweat A LOT! Carry drinking water with you at all times and stay hydrated. By the way, don't drink water from the tap in Korea.
There are lots of native fruits and vegetables in the gardens and orchards. You might find baskets of red peppers that make fabulous colourful photos... like these red peppers drying in the sun.

The island is famous for its Hallabong and tangerine oranges.  I've never tasted such delicious oranges. Yes, the hallabongs are quite expensive but you'll totally understand why when you put the first slice into your mouth.


In the Traditional Korean Village - Drying peppers to make the spicy Korean traditional food.
Yeomiji Botanical Garden in the Jungmun Resort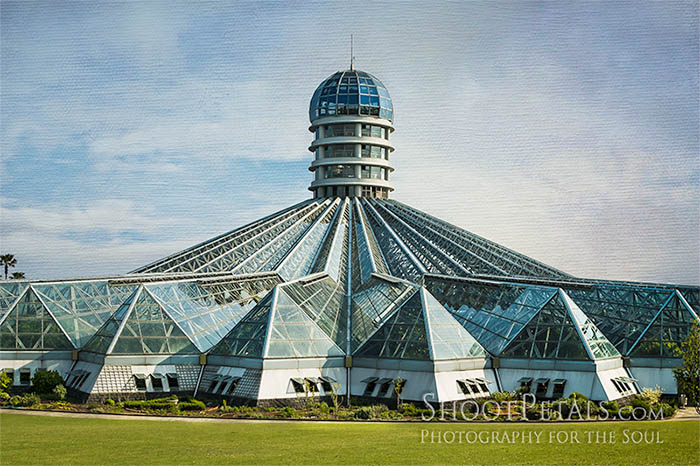 Yeomiji Botanical Gardens on Jeju Island. The Observatory, Centre Hall and the 5 Greenhouses.
Yeomiji Botanical Garden takes the lion's share of my time when I'm on the Island.  Come see why!
The garden is in the posh Jungmun Resort (say it "Jung-moon") on the southwest Pacific shore of Jeju-do. About 50 minutes drive from Jeju City.
The conservatory is a central observation tower with five adjoining greenhouses. From above it has the shape of a sunflower but from the ground.... the unit looks somewhat like a UFO.
It only takes one visit to see why this Jeju Island botanical garden claims to be the largest and best in Asia! Go here to see why.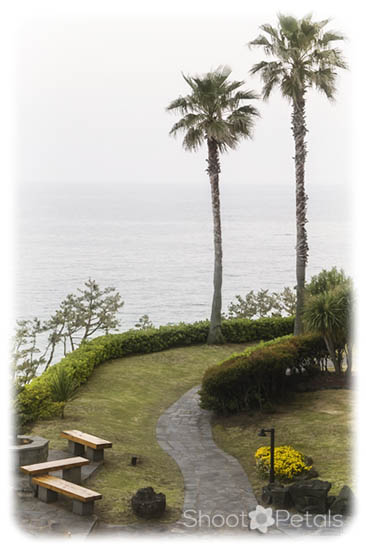 The lawns and garden area at the Hyatt Hotel in Jungmun Resort are a popular place for filming Korean romantic movies.
The Jungmun Resort is the area for top notch hotels and they're all adorned with sensational gardens. It's the humidity, heat and the volcanic soil. Kind of the perfect recipe for a botanical explosion.
This photo is of the Hyatt Resort... they have the most spectacular site on the cliffs overlooking the ocean. The gardens and the site itself attract the movie industry and lots of weddings. In fact, the Hyatt has it's own small wedding chapel surrounded by gardens on the lawn.
There's a climb down to two separate beaches, one on each side of the hotel. One is the popular, beautifully sandy beach with beach volleyball games. The opposite side is Black Rock Beach that's more secluded and it's my favourite.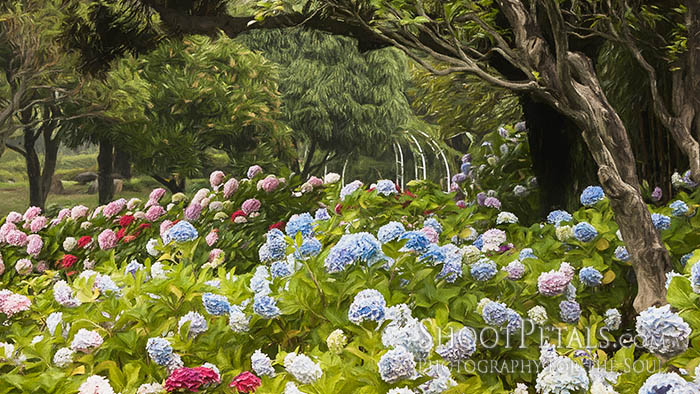 The hydrangea walk is gorgeous in the early summer. It's near the entrance and greenhouse building at Yeomiji.
Holy Hummingbirds Batman!
I was at Yeomiji Botanical Garden, sitting on a bench in the centre hall and there it was... hovering beside my arm.  I thought it was a hummingbird at first but couldn't explain the long siphon in place of a beak!
... First encounter with one of these strange beings.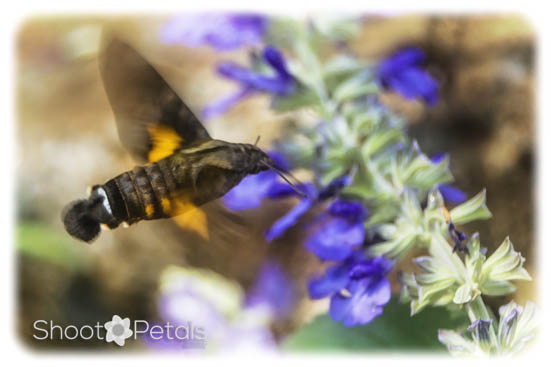 Not a real hummingbird, it's a hawk moth. I sure thought it was a hummingbird when it first darted by me. Difficult to get a photo... just be patient and wait for it to hover.
Meet the hummingbird hawk moth (Sphingidae)! Absolutely incredible and, no, the video isn't in fast motion! This fellow is about the size of my little finger and insanely fast.

He rolls that little siphon up and then he shoots it out again into another delicious flower.

The Yeomiji Botanical Garden page has more about where I found this little fella.
It was almost impossible to get the video camera to focus because he's a speedy Gonzales and he's got a teeny-tiny body.


The photos are from Jeju-do but the video was taken at Daegu University. These little nectar lovers adore honeysuckle and there's lots of it on campus!

It seems there aren't any 'real' hummingbirds in South Korea and hummingbird hawk moths  have a widespread presence presence throughout the world.

Flowers galore out front of the International Convention Center, Seogwipo, Jeju Island. Always magnificent garden scenes to photograph here.
Jeju Island Trivia
It used to be called "Quelpart" after a Dutch ship that accidentally sighted it. The ship was blown off course on its way from Taiwan to a Dutch trading base in Japan. Jeju Island would have been a heavenly place to be stranded!After the Japanese annexation in 1910, it was called "Saishû" - Japanese for Jeju.
If you're researching this fascinating island, you might find it as "Cheju-do" if the information was published before 2000. (In Korean, "do" means island.)

You think Hawaii's got it all? Well, Jeju-do's also a volcanic island "extraordinaire". Come and see the cool botanical life here. As a matter of fact, Jeju Island is nicknamed the Hawaii of Asia.

There's a neat kind of wetland on Jeju-do called Gotjawal Forest. Surprising that today any part of the world is free form humans messing about with it... but here it is.  Totally undisturbed in the island's entire history.  Can't you just picture the scientists drooling over it?

Besides its botanical wonders, Jeju is known for numerous other things - like stone gods of fertility and protection... the adorable stone grandfathers or "dol hareubang". These little fellas, about 3 meters high, are carved from basalt -- that's volanic rock.  They've got ear to ear grins, bulging eyes, mushroom-like caps... talk about a phallic symbol. I sure had a chuckle the first time I saw them

Golf? You got it!... 24 major golf courses.  If you, or someone close to you, is a golf freak... you're headed to the right place. Tee off on Jeju Island. And get this. You can golf here all year round with the mild climate.
If you want more information about this amazing island, check the English language site for the island here.

Wrapping It Up On Jeju Island

Jeju-do is a hotspot to visit in East Asia and I whole heartedly urge you to visit. The entire island is one big garden and everywhere is lush greenery.

My favourite place to hang out is around Seogwipo and Jung Mun Resort on the south shore. So much to see and do with Yeomiji Botanical Garden and flowers around the International Convention Centre. With the high humidity and heat, the Island is a lovely large greenhouse where the plant life thrives.

Make sure you pick up a box of hallabong oranges.  If they aren't in season you'll find the tangerines. Don't worry because they stock boxes of them at the airport.  You have never tasted such juicy, sweet oranges like the ones on Jeju-do.

Other goodies you can pick up for a refreshment along the way... sip some refreshing coconut water, it's healthy. I always went straight for the fresh squares of fresh pineapple on a wooden skewer. Juicy... sweet... oh yum.

Another must-see is the tea fields, tea museum and green tea products at O'Sullac Green Tea Fields.
The Island is busting with photo opportunities for nature and flower photographers. Take the detour if you're in Seoul or you'll be so sorry you missed out.
Please leave a comment below on what you've learned or any topic you want to know about.  And if you enjoyed this page, it would be super if you'd "like" it.
All this helps me know how to create even more great content for you.
If you liked this page, you'll also like these...