Winter Pictures with snow or without

... Track down a conservatory for warmth and seasonal displays
So you think winter pictures of gardens aren't very exciting?  Take a closer look and see the photo potential in a winter landscape! There are pearls hiding in the snow.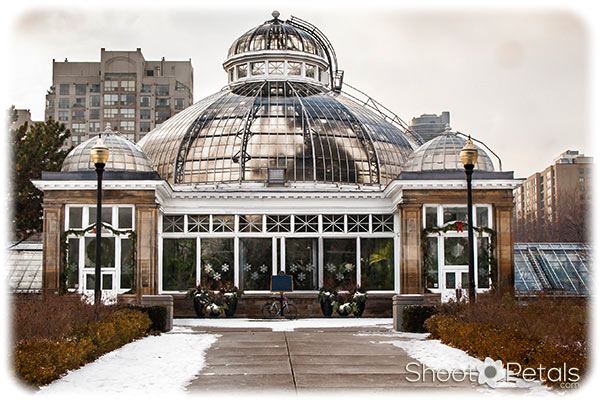 Allan Gardens conservatory in Toronto snow. Conservatories are lifesavers if it's cold and uncomfortable outside.
Think you can't get snazzy winter pictures in your own garden? Then check the websites or newsletters of local public gardens for their special displays or festivals. You might even get a chance for some night photos, especially during Christmas festivals. So many botanical gardens put on a Festival of Lights December through New Years.
Sound interesting? I'll be able to help you out with your night photography! By mid December, the sun has set before 5:00 in southern Canada so you need to know a few things if you're taking winter pictures at an evening event.
And talking about gardens, night photography and winter festivals... Think about attending the VanDusen Botanical Gardens Festival of Lights... always spectacular!
I'm on Vancouver Island and this will be the first year I've been able to get to Butchart Gardens' Winter Festival.  They call it their 5th season :).

Maybe a smaller garden, but Park and Tilford is worth a visit, especially for their Christmas seasonal display! Get a taste of the Festival of Light at Park and Tilford Gardens right here.
get Close because...
... the devil's in the details!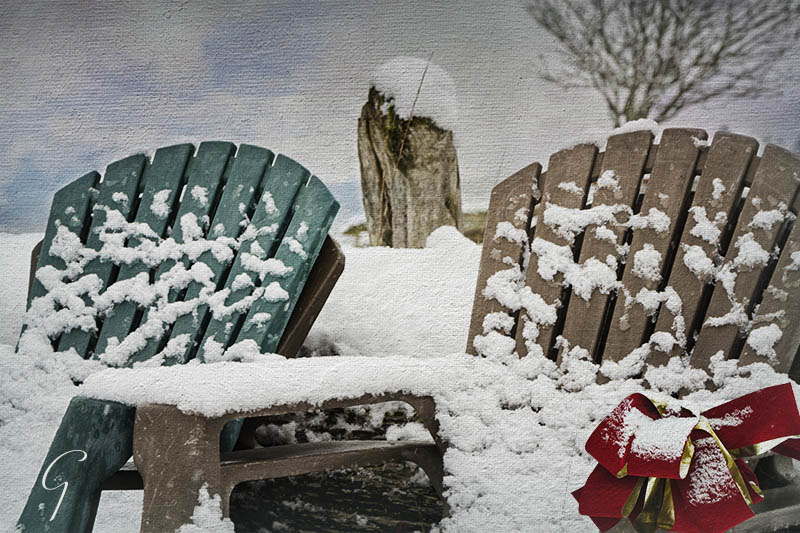 Snow covering the lawn chairs at Seaview on the beach. This photo is on one of my note cards.

Not everywhere has winter snow. Vancouver gets snow but it disappears quickly. The mountains around are snowy on the slopes but Vancouver city experience is dull and rainy. 
And now I'm on the Island. This December has been colder and sent more snow from the heavens than usual. 
Ivory and I walk the beach near the Little Qualicum River estuary and we walk north toward the mountains and smaller islands... gorgeous when the morning sun shines on the snowy peaks.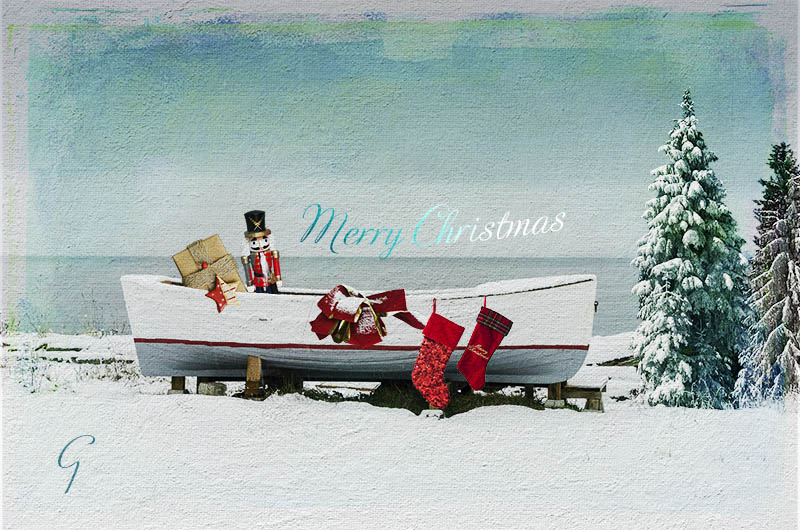 Children's play-boat at the Seaview Beach Resort, Qualicum Beach, BC. The gifts, toy soldier and stockings... Photoshop!
Why not make your own Christmas cards?

I stayed at the Seaview Beach Resort in Qualicum Beach for 6 months, autumn 2015 to spring 2016.
This small boat on their beach was rescued , then restored by master wood carver Francois Mongeau.... a prominent, totally awesome artist here on the Island. 
Now the cherished play-boat of the youngest resort guests... I'm going to get the number on the little boat and look up its history! I can't wait to hear all the stories it has to tell.

The little boat is one of my favorite photography props and I have pictures of it in all seasons...
... but this Christmas card image is a favorite at the resort this year.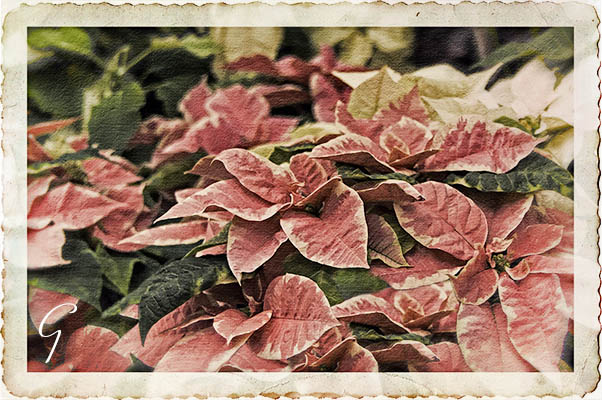 Winter poinsettias at Allan Gardens in Toronto. Conservatories with their seasonal displays are good bets for photography.
Photo Editing - Express Yourself

Are you a realist or an artist… or both? This is the part where you learn how I created some of my pictures.

I totally love the digital darkroom.  I felt the same in the "real" darkroom! I was kind of a die-hard… held on to slide film and chemicals for a long time before I gave in to the digital revolution.

If you can press a shutter, you can learn basic photo editing, Download a free or inexpensive lightweight "model" and start playing.

Layers and Textures

When you edit your images in Photoshop, or any other program, work in layers. By making all your changes on a separate layer, you'll keep your original intact. 
If you make your edits right on the photo, you're changing the pixels permanently. When you save the file and shut down Photoshop, your original is gone forever.
... Unless you made a copy of the original and worked on that, which is always the best idea.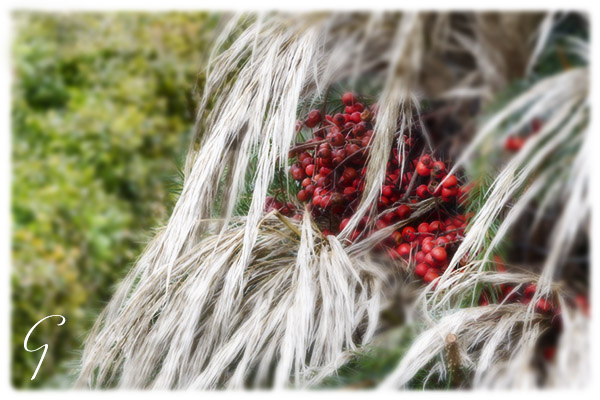 VanDusen Botanical Garden's display in December. Grasses and berries have lots of texture.
Add textures as layers.  Shoot pictures of all kinds of things that might make a good texture or background for an image. Build your own collection so you can play around. 
Do a search for free textures as well. When you know your style, you can start buying textures you know work for you.

A poinsettia from Allan Gardens in Toronto with heavenly light falling on it.  I used a texture layer to block out all the foliage around the edges, then a simple, thin, black frame. 

Taking Winter Pictures

... Be prepared and stay warm
Tripods and cameras suck the warmth right out of your hands. Your fingers will feel like ice cubes if you don't wear warm gloves or mitts. But just try to manipulate a camera wearing mitts or gloves!

My secret for toasty warm hands -- I knit some hybrid mitts - half-gloves/half-mitts. The flap turns back and frees your fingers! You can add a button or a piece of if you want to secure the flap. And I wear them a lot, they're not just ordinary mittens, they're my favourite convertible photographer's mitts and here's the pattern.

Wear warm walking boots or shoes with cushion-y socks when you're snapping winter pictures. Cold feet will stop you dead in your tracks!
And take a thermos of tea or coffee with you. Garden cafes or restaurants aren't always open in the winter. You start out warm but you'll be frozen to the bone when you're handling tripods and cameras.


Take a Wider View
... winter garden landscapes

Let's get back to the great outdoors and that might mean winter snow...  maybe a new layer of fluffy, fresh white! Very bright and sparkly, especially if the sun's shining.
Ever wonder why your snow turns out gray instead of white? (Your camera's not bright enough to figure it out!!) You need to know about exposure and find out a sneaky little trick that will fix that gray snow forever.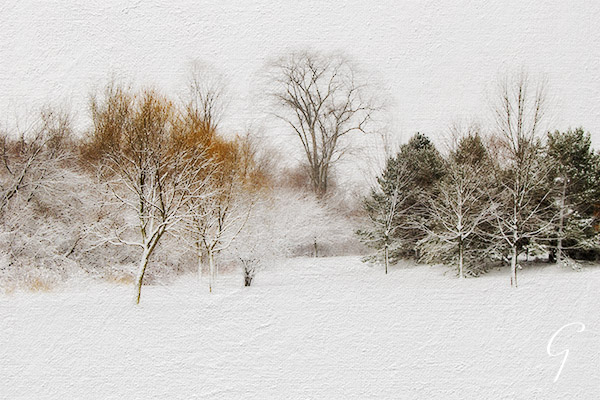 Winter picture in Whitby, Ontario. The park under a bed of snow. Painterly textures added for a canvas look.
Move In Closer 
... fill the frame with your subject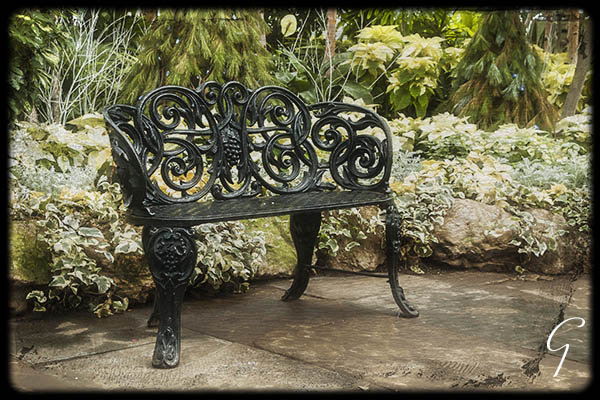 Allan Gardens, Toronto, is a popular place for seasonal photography. They put together an amazing Christmas display every winter.

Horizontal or vertical picture?  Try both... we seem to forget that our cameras can actually flip positions to a vertical view! Live dangerously.... change your viewpoint! :) 
The metal bench fits a horizontal image but what about the snowy fence post and ribbon below? 

 Move around and find the most interesting angle without any photo bombers... like garbage or trees growing out of people's heads. 
Most of all, have fun with your camera in the winter months. Get out and enjoy life and photography.


Please leave a comment below on what you've learned or any topic you want to know about.  And if you enjoyed this page, it would be super if you'd "like" it.
All this helps me know how to create even more great content for you.