Spring Festival Fever
... Best Treated with Cherry Blossoms

A spring festival might just be the order of the day. If you're in the mood for cherry blossoms, there's a yearly Spring Flowers Festival on Yeouido Island, in Seoul, South Korea. This festival takes place in the Yeouido Hangang Riverside Park. Take a walk around the island under the shade of nearly 1600 cherry trees (prunus yedoensis).

Yeouido is the home of the South Korean National Assembly.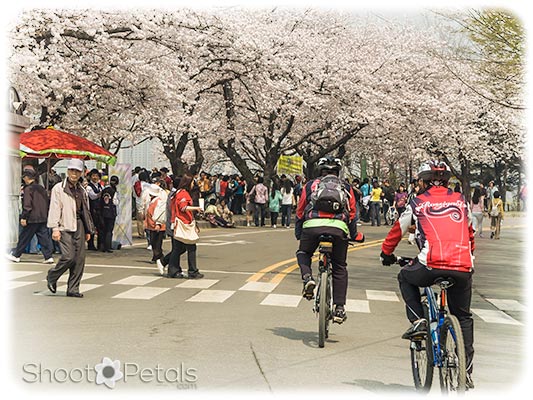 Spring festival Yeouido South Korea with cherry trees. A popular route for cyclists, along with huge crowds of people walking under the cherry trees. The road encricles the government buildings.
After a bone chilling winter -- yes, Korea has cold snowy winters -- bicycles and cherry blossom viewing replace snowboards almost overnight.
One day you wake up with your "long johns" on, only to find the snow melted and cherry blossom buds about to explode. Well, maybe not quite that fast...
Images of the Yeouido Spring Festival

Here's a quick photo tour of Yeouido's Spring Flowers Festival. If you're planning on visiting, it's always a good idea to have an idea of the area so you can plan your day. I didn't stay for the evening ceremonies, but if you do, you might want to brush up on your night photography skills! Not only for the spectacular fireworks show on the first night... the cherry trees are lit up every night and that makes for some superb photos.

With each photo, there's information on how I got the image, either taking the photo or in the editing. You might try looking at the image and guessing what my shutter speed and f-stop were and why.

Yeouido Spring Festival of Flowers, people walking and sitting under the cherry trees. Dawn till dusk, the area is packed with people celebrating cherry blossoms.
To get everything in focus I used f 11. It was a very warm and bright day, though it was very hazy and there were no dark shadows. That worked well since all my photos were taken in the middle of the day.

People make your images more interesting so include them as often as you can.
A curved walkway makes gives this image some perspective it's more intriguing than a straight path.
There are no people right in the middle of the image. The groups are on each side of the picture... the people seated are on the lower third spot and the people walking straddle the left third line.

South Korean Traditional Dancers
... always a major attraction

South Korean traditional fan dancers with pink camelias decorating their large fans. An afternoon show of several different dances on the main stage.
Korean springtime is short and sweet but there are plenty of spring festivals to keep you hopping. Do some serious planning and you can pack several flower photo opportunities into just one week.
Layers and Textures
This image is edited to look more like a painting. I did that for one reason... the haze (better known as pollution) was bad that day and I didn't want to chuck this image.  The cherry tree and blossoms are too pretty!  So there was a creative alternative... make the haze work. 
A few layers of white vignetting dulls the saturation.  The image is fairly neutral in colour and is only a display of shapes... the lines of greenery and the curves of the branches.
There's no added texture but I thought about adding a layer of linen to make it look like it was a painting on canvas.
When you're adding a vignette to your photos, NEVER do the work on the background image. Always add a layer so your original image stays pristine. As an added precaution, you can open a copy so you don't make a mistake and lose the original file. Believe me, it's horrible feeling to open a 12 megapixel file and save it... later to realize it's now only 2 megapixels.  All those pixels are gone forever.

Wrapping it up

Time to go! Down the hill and back along the Han River to the subway... a quick look behind to take the last pictures of the cherry trees. My train was leaving Seoul in a few hours  so this was the last opportunity to photograph the cherry blossoms this trip.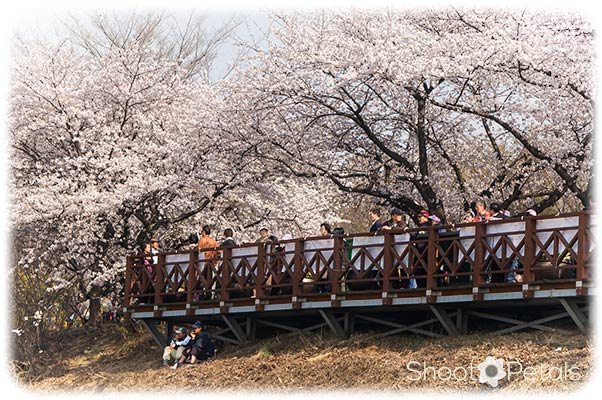 Korea - A small and friendly country with a wild passion for flowers and gardens... and a great spring festival in Yeouido!
Its hustle and bustle capital city, Seoul, is a great destination for cherry blossoms and spring flower festivals.
Please leave a comment below on what you've learned or any topic you want to know about.  And if you enjoyed this page, it would be super if you'd "like" it.
All this helps me know how to create even more great content for you.