Poppy Flowers Are Superb Subjects For  Fanciful Photography

... a field of these beauties virtually guarantees ample flashy photos
A pair of poppy flowers or a field of poppies blowing in the breeze, there's something sensational about these flashy flowers.  Poppies make for dramatic, almost psychedelic flower photos.



This oriental, for example. One of a large clump that caught my eye early on the morning walk in June. There they were, brilliant red blooms insolently breaking out of mounds of dirt dumped last autumn in a vacant lot near the Island Highway. They were almost hidden behind thick, tall weeds, thumbing their petals at the bulldozers that cleared the plot to prepare ground for a new home. Nature prevailed!
And, I was thrilled about that. I didn't know exactly what they were and I couldn't resist investigating the luminous red blooms... after all, I'm a flower photographer!  Utterly astounding... scads of poppy flowers growing up from the dirt dunes. I wondered where they used to live before they were extracted from their former home. Dozens of blooms flaunted their vivid red-purple petals. Many of them, at the top of their hills, towered over me.
What a find... thank you, Universe! I picked several and ran off down the street with my prize blooms. This lovely was one of that day's photo efforts. I didn't keep track of how many hours I spent admiring and photographing them in my home photo studio, AKA 'my kitchen'.
I went back a few times and picked more and photographed them. Sadly, one morning while they were still blooming profusely, the area was bulldozed and nothing was left but bare, flat dirt. So disappointing.
But I did keep the seed pods from the ones I picked before... all deep red and purple, some fringed, some doubles, all opulent examples of Papaver orientale. So I'll spread the tiny seeds and wait for the new generation in the spring. Thankfully, they will be back!

If you're photographing in Auto, you might want to get beyond and give more guidance to your camera. You'll be so much happier with your photos if you use the Semi-Auto Digital Camera Modes.

Once you understand the very basics and you get to  run the show, you'll see a huge improvement in your photography. The more you practice, the more comfortable you'll feel about controlling your exposure and setting up every photo will become automatic. It's just like learning to ride a bicycle... first it feels shaky, but soon you've got it!

Romneya coulteri - The Giant White Poppy Flowers

How insolent to call this ravishing blossom the "fried egg flower". No way! Call them by their pretty name... the Matilija poppy. 
These poppy flowers dwarf most of their cousins. The white petals remind me a lot of crumpled paper. They grow in areas that have been burned and that gives them unlimited sunshine and space. 
Once  their roots are entrenched in the ground, they proliferate like crazy and it's almost impossible to get rid of them. I think they're gorgeous and they're always welcome to come and live in my yard.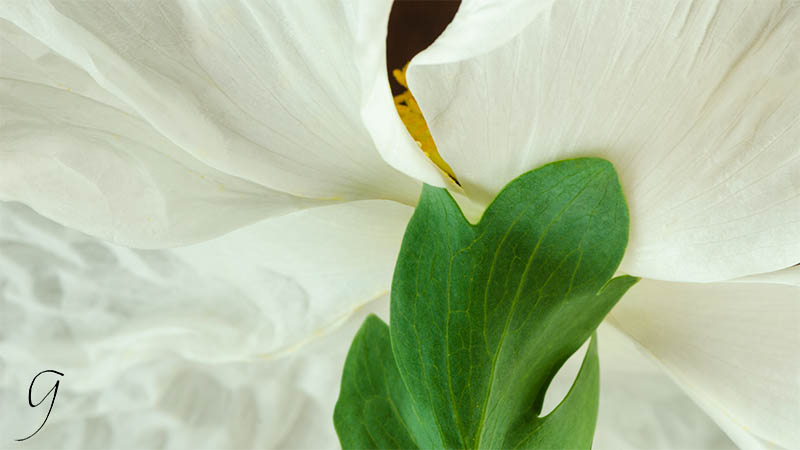 Dainty white Matilija poppy. It reminds me of crinkled paper. Macro Nikkor 105 mm lens.

I photographed several of the Matilija's in my kitchen. They're super studio subjects. But...

If you find a group with a large number of blooms, how about "shooting through" some of the petals, focusing on one poppy flower in the middle.  Here's an explanation on my pictures-of-wildflowers page for "shooting through" flowers.

Any one of these poppy flowers would be gorgeous as a note card.

I adore my technology.... could never be without it. But I can't explain how amazing it is to send one of my note cards to a friend. I don't know who's more thrilled... me, when I put one with a letter into the mail,  I'm ecstatic when a friend calls to tell me how much she loved receiving it.
Keep in touch with your friends and family by writing a real, old-fashioned letter or just a short  message in a beautiful photography note card. Choose a few of mine and send them to people you love.
All of the photos on this page, and most of the images on any page of my website are available as both cards and prints. I haven't put them all on the shopping pages so if you want one that's not there... contact me and let me know what you'd like. I'm happy to get you the exact photos you want.
PS. Prints or note cards make wonderful gifts!

Oriental Poppy Flowers Are Perfectly Pretty in Pink

More Papaver orientale, showy in a different way from the first fringed poppy at the top of the page.  These are closer to what the typical opium poppies look like... though they don't sport the dark circular areas in the petals around the centre. Here's an illustration of opium poppy flowers. The scientific name is Papaver somniferum.
Read my blog post about my experience with the opium poppy and how I first became familiar with it.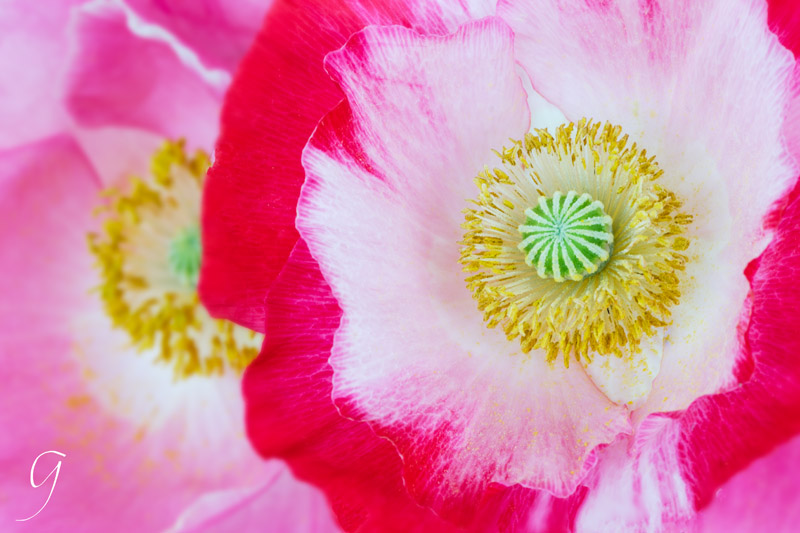 Pink, red and white oriental poppies in South Korea. AF-S Micro Nikkor 105 mm lens
In Flanders Fields the Poppies Blow

... Papaver rhoeas is our symbol of remembrance
'"An intensely simple, intensely floral flower... " John Ruskin, Proserpina
"All silk and flame: a scarlet cup... like a burning coal fallen from Heaven's altars... No sparing of colour anywhere - no outside coarseness - no interior secrecy."
A perfect description of the field poppy, Papaver rhoeas.  'Rho' comes from the Greek rhoeas. The root 'rho' means 'red', and this poppy certainly is that.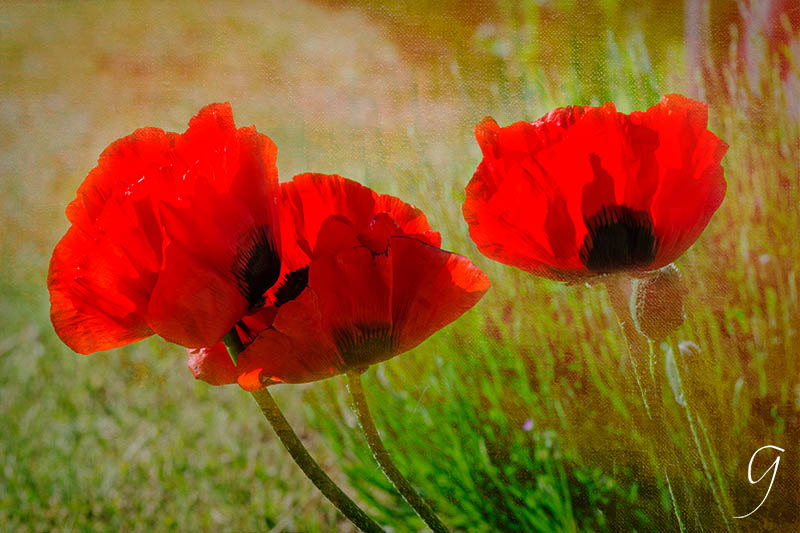 Common red poppy, Papaver rhoeas, the poppy we know as the Remembrance Day Poppy.

AKA, the Field Poppy, if you've seen them growing thick in a meadow, or more sadly in Flanders Fields, maybe you were entranced by these crimson lovelies.  That's because the glowing red petals have a chemical called rhoeadine that sets them all aglitter.
The field poppy also flaunts it's petals in doubles and sports other pastel coloured petals.


The Delicate California Poppy
... belongs to the Papaveraceae family
The California poppy is a beautiful hue of gold, but I learned first-hand this summer that they also come in a pink-tinged white... tiny, delicate flowers.  I used a Lensbaby Velvet 56 for this photo and the soft glow is perfect for such a fragile little flower.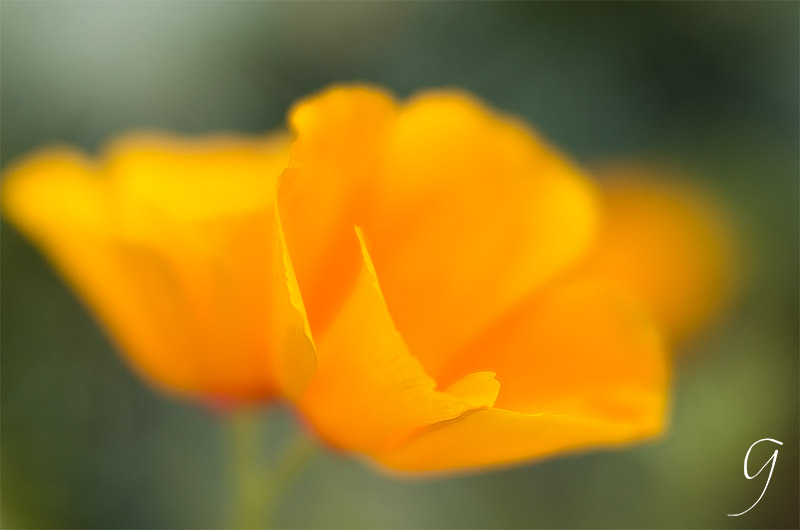 The lovely, golden California Poppy. A small, prolific poppy that loves bees and the bees love it back.

Compared to the Matilija poppy, the California poppy is tres petite.  Eschscholzia californica is a golden chalice-shaped flower... it lures in bounteous numbers of bees. I can tell you from this summer's experience that once they find their way into your garden, they're prolific and hard to control.
I've pulled legions of them from the backyard garden trying to keep them confined to certain areas! I still love them even as I respectfully foil their plans for a complete take-over!

Let's Wrap Up Our Poppies!

The poppy family is called Papaveraceae. I've photographed 3 different genera but there are many more.  They aren't only beautiful in a vase or in our gardens, they play a role in medicine and in the ugliness of addiction. I'll share my very personal story about how the opium poppy and addiction touched my life... you'll find it here.

We use them as a food source.... they make a healthy salad oil and the seeds are used in our bagels, breads and poppy seed rolls. Poppy petals often decorate fancy cuisine.
But, photographing them or just admiring their exotic beauty is my favourite way of appreciating them.  (But I do feel rather hungry for a poppy-seed bagel right now.)

If you liked this page, you'll also like these...