Dahlia Flowers

... showy, sassy and sensuous
There's nothing more eye-popping than dahlia flowers. The colours dwarf even the most  psychedelic Italian gelato.  Yum!
The only way to top a dahlia photograph is to turn it into a masterpiece of painterly photography.  Roll out the textures and fire up Photoshop.


Fine Art Prints and Note Cards

All of my dahlia images on this page, as well as many more beautiful flowers from all around the world are available as both prints and note cards. Browse and find your favourites. Click on the images below.

I love living here, ocean-side on Vancouver Island. So, you'll also find lots of lovely impressionist images of the fishing boats, sea shells and our indigenous animal life as well as the flowers. How do you like the artistic touch I give my photos? The unique painterly style is a reflection of how I feel about the scenes.
If you would like a picture that you don't see in my "print shop", contact me and I'll be happy to let you know if it's available in the size print that you need or as a note card.

It gives me great joy when I know that others appreciate my work. If you have a comment, please leave one at the bottom of any page or contact me.


Got an obsession for intense colours?  Dahlias might be your darlings.

But, flashy colours aren't their only virtue.  They have a long blooming stretch  from spring through fall.  If a winter without is too much for you to bear,  pick some up from the local flower shop. Here's how to put together a DIY home photo studio.

I can work one dahlia bloom for hours... days, even.  They stay fresh in a vase for at least a week. For the few dollars they cost, they're a productive investment.

Lime green and magenta are a splashy pair. What do you think? Mother Nature comes up with the most incredible colours. This dahlia image looks amazing as a fine art print. 

Energetic properties of dahlias:
They encourage us to follow our inner guidance and remind us of how powerful we are.
They tell us that one person can make a big difference in the lives of all the people around us.
The Lensbaby Velvet 56

Most of the images of dahlia flowers on this page were taken with my Lensbaby Velvet 56.  I wanted one of those "babies" for so many years. And I'm overjoyed with the results.
A Lensbaby takes practice but if you stick with it, you'll be rewarded.  A perfect match for flower photography because of the soft, ethereal quality it produces.

"When you look at a flower, you first see the whole flower, its color and shape.  As you keep looking, you see the petals and veins and stamens and pistils.  When you look more closely still, you see the segments and shading in the petals, until you begin to feel the vastness of those details.  To see the vastness by looking at one thing in its details is to see its sacred connection to space and to all other things."
-   Jeremy Haywood, A Guide to the Sacred World of Shamabhala Warriorship

Choose Young, Flawless Dahlia Flowers

The darkest dahlias are my favourites - they're mystical.

There's an astounding variety of colours and textures when you look through a macro lens at a flower like this. I took this photo with a Nikon 105 mm macro lens.


If you're loving the images on this page, why not purchase one?  Or a few?  They're all available as prints or note cards.
Some dahlia flowers fit into a vertical composition perfectly! Like this one.


I love the tiny yellow florets and the yellow against the brilliant fuchsia. 

This flower was very small and the photo was taken with my Nikon 105 mm macro. 

When you look through a macro lens, there's such an amazing world that you otherwise miss entirely. 



Textures Finesse A Dahlia Image
... Experiment to find the perfect combo

My photo editing software is primarily Photoshop when layers are involved. Lightroom  handles all of your 'developing' but, if you plan on adding textures, you'll need to move over to Photoshop. 
You can shuffle your images smoothly between Lightroom and Photoshop, though some folks use Photoshop with Adobe Camera Raw and Bridge and never use Lightroom. 


Do a Google search to find free textures or shoot some of your own.  I keep a file of photos of rusty metal, rocks, concrete or wooden walls, old wall paper... anything... use your imagination.
Most of the textures I use now make my photos appear to be paintings.  Get them from French Kiss Textures.
(I'm not paid to tell you how much I love them. I don't receive any commissions when you make a purchase.  I just think they're amazing and if you like textures, you'll love 'em, too!)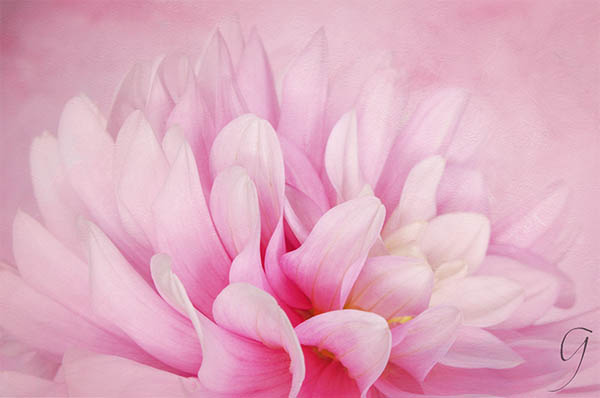 A sensational dahlia in a pallette of dainty pinks. I took my time looking through the lens and changing angles to capture these gorgeous petals.

All the dahlia flowers on this page were photographed indoors. It's usually breezy here on the Island and when you're shooting macro images, even a teeny-weensy petal movement creates blur.  Breezes always make for a wasted effort.
I use my tripod every time for macro or close up photography, natural light, a background pasted on foam board, and one or two twist ties to keep unwanted flowers or leaves out of the way.

If you're loving the images on this page, why not purchase one?  Or a few?  They're all available as prints or note cards.
Shoot horizontal and vertical photos of your flowers. You may like one view better. Make sure you fill the entire frame with your bloom.

Dahlia flowers are such a diverse, gorgeous, colourful group of flowers.  The ones I love best are the darkest colours but there are plenty of lighter pastels, and they're gorgeous, too. 
If you're running into problems on a breezy day when you're going for macros or close-ups, pick a few and move them inside to your DIY home photo studio.
Either inside or out, photographing dahlias is a blissful way to spend a few hours. Kick back, relax and enjoy yourself. If you like my images, I'd be thrilled if you'd order a print or some note cards to send to friends.  :)  Share the beauty!