Pictures of Gardens

... here, there and everywhere
Taking pictures of gardens is one of the most rewarding pastimes ever! These outdoor living spaces transform and nourish us in both body and soul!


This glowing perennial border is in Asia..where it's hot and humid. The gardens are thick and lush and begging for pictures to be taken.

To every season there's a different quality of light. The palette of colors and scents in the gardens change as well when days grow longer or shorter. Each garden has its own character and beauty and you'll find quite a variety of gardens in this section.
... like spectacular home gardens or gardens with historical significance.
Scroll on down the page for an invitation to share your special pictures of gardens and stories with us. Others have already shared, so please feel free to look at their stories and photos of gardens.

International Gardens and Garden Exhibits

Canada:

USA:

Asia:
The humungus Greenhouse building at Yeomiji Botanical Gardens, Jeju Island, South Korea. It has 7 international outdoor gardens and 5 greenhouse gardens.
Got a Hankering for a Fabulous Garden?

... I have the perfect website for you!
You don't need a 10 acre plot of land to transform your yard into a garden paradise.
The birds and the bees don't care if your piece of heaven is a  patio, a balcony or half an acre of luscious garden. They'll come and hang out with you no matter how big or small, with the right flowers to attract them.
That might mean seeking counsel... someone who's planned and executed a compact garden with planters.
No matter, I have a website source that I drool over on a continual basis. Anyone in need of a little inspiration will find it right here... in the Houzz website.

Check out their Outdoor Photos and Outdoor Living Stories. Then start designing your own backyard flower photography studio.
Oh, and definitely sign up for their newsletter. It will be the sunshine of your week.

Want To Take Fabulous Pictures of Gardens?
... Try these to make yours stand out.
Garden tours are very popular these days.  I'm so inquisitive about other people's homes and gardens so I grab any opportunity to take a jaunt through the neighborhood yards. I love to see what people are making of their outdoor living spaces!  Make sure the folks are okay with visitors taking photographs.
Some of best fun I've had is spending time in a Garden Centre.  Taking photos inside means no wind and time to think about each image. There's a huge selection of flowers and various garden scenes in one relatively small area. If you're lucky, you'll have a restaurant or cafe there to relax and go over your files.
When you're shooting photos of gardens, it's always good to add the human element! A garden portrait of your friend or family member... or your pet. Never forget your pet!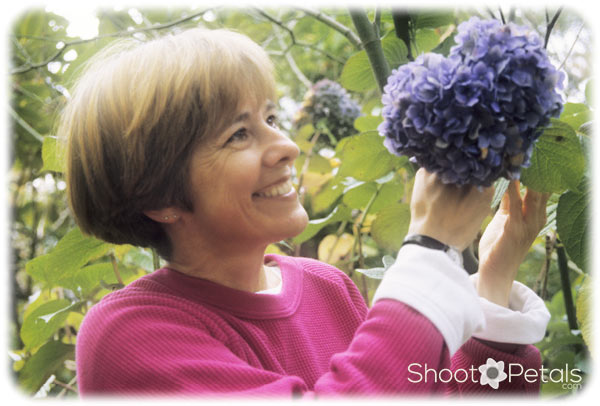 Gardens are one of the very best places to take portraits of friends and family... and pets! It's far more relaxing in a garden than an indoor studio.
Show Us Your Flower Garden Pictures
Do you have some pictures of gardens that you can spin a tale around?

Did you and your camera travel far and wide... or did you just walk across the street?

Could be the garden you lovingly tend in your own back yard. Maybe its your friend's garden. Doesn't matter... we want to see and hear about it. And humorous... well, who doesn't feel better after a good chuckle?

Think of making this a "group" effort. Maybe you took some super flower garden pictures and one of your family members loves writing a good story! Then make this a partner effort and be sure to tell me your names... just so I can give credit to all sides!

Please only submit stories and pictures of gardens that are truly yours! If they aren't, and you don't have written permission to use them, you can't!
Your Stories and Pictures of Gardens
Click on any of the links below to see some stories and special flower garden pictures. They're shared by other visitors to this page.

If you liked this page, you'll also like these...