Flower Photography
From My Heart To Yours
How are your flower photography skills? 

If you've got the desire, I'm here to help.
Want to master your flower photography?


... 

it's more than theory

 


Have you ever felt intense emotion when you saw a beautiful picture of a flower or garden? 

Well, beautiful images started way before a photographer picks up a camera. They're created from a deep love of nature and an awareness of the miracles that live in the garden.

Mindfulness is a significant element of a stunning photograph ... being completely present in the moment with an appreciation and awe for what we encounter through the lens.

"In life and in photography, a closer look at the familiar can often reveal truth and beauty."  ~ Jim Brandenburg


To photograph nature, we have to go outside and become immersed in it. Immersion requires a desire, awareness and an inquisitive attitude.  On occasion, it's downright cold, wet, and uncomfortable! Other times, it's sunny, warm and pure bliss.

If you're seeking is a more peaceful, connected life, nature and
flower photography is a process that can lead you there.


Mastering the art of photography requires energy and a commitment to learning. It's important to understand the technical aspects but those are only part of what makes great photographs. The rest is intangible and intuitive.

There's Something Here For Everyone

We must become educated about the poisons we're feeding this earth and how they're killing off the pollinators, like the butterflies and bees, responsible for our diverse food supply.
Get your camera in hand and get acquainted with these incredibly intriguing animals... in the orchards, gardens, wildflower meadows and family farms.

Paper Nymph butterfly (Victoria Butterfly Gardens) sitting still for a few seconds! Nikon macro 105 mm. Painterly textures added in Photoshop.
Video - a super way to catch movement, like those dashing butterflies. Want to remember what your garden looked like the best blooming year ever? Capture the whole space with you cell phone camera or your DSLR.
Photo Editing - I love to work in the digital darkroom. Don't be nervous about photo editing. Jump in and experiment. With a little coaching, you'll be comfortable, confident and competent creating beautiful flower photography art from your own photos.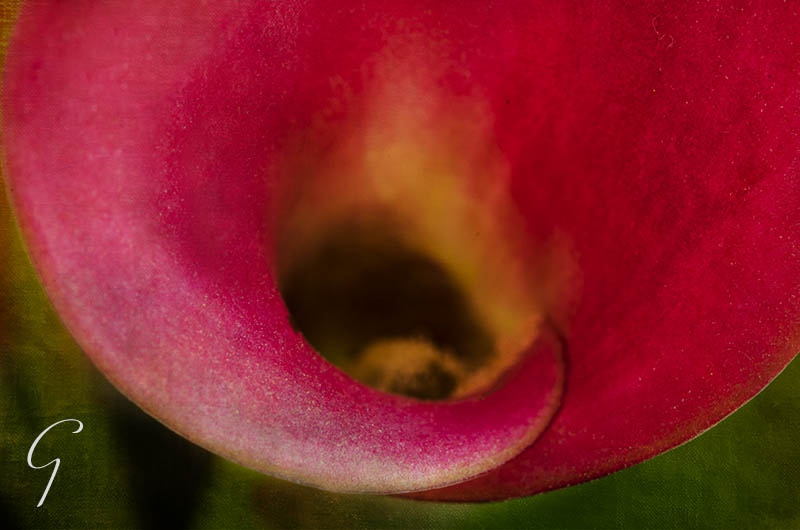 Calla Lily from a plant in my window. I used a Lensbaby Velvet 56 lens. Photoshop - painterly texture layers.
Information about Gardens, Festivals and Celebrations from all over this amazing world of ours.
 
And even better...

You're invited on a Guided Tour where we'll photograph some of the most magical gardens of the world.You'll not only get that vacation you've been dreaming of... you'll spend time touring some of the most famous gardens of the world... meeting new friends, improving your flower photography and having a whole lot of fun to boot!
Flower symbolism... the flowers have a language all their own. What flowers (and their colors) mean is sprinkled all through these pages. Pick up a few ideas if you want your next bouquet to be extra special.


How About Staying In Touch?

... there's more than 1 way
If you want to stay up to the minute with news, garden tours, my latest photos, flower photography tips and more.... sign up for my weekly e-zine, Photography for the Soul.  >>> Click here to go straight to the sign up page. Or use this form.
Last but not least, you can leave me a comment on the bottom of any page of my website.




Flower Photography

... Medicine for the Soul
Sit and meditate in a quiet part of the garden for awhile before scouting out scenes or flowers to photograph. That's what I do. A stroll through the garden, no camera involved, gives me a feel for the  energy and the spaces.
Ideas will start to flow! That's the time to bring out pen and paper. Sketch it when you think you've got a good idea. It helps with your composition.

The whole process of flower photography is contemplative. Everything in the garden... the birds and their songs, the water features, strategically placed art, and the plants, create an environment that touches all your senses.
You can't photograph a flower or a garden by rushing through the process! It's a slow, gentle, experiential process.

If you can't get to a garden today, there's always a flower nearby. Even one little flower can be an intriguing subject.  A delicate little flower pushing through the concrete, up to the sun, is a story of strength and courage!
There are all kinds of stories out there in the garden... you just have to find them.

I want to help you with your flower photography skills and show you how to improve your photography. Even more, to encourage you to slow down and truly enjoy the garden... to see and experience it as you never have before with your eyes, your heart and your camera.
Practicing mindfulness doesn't just improve your flower photography.  You'll experience a positive spin-off after you put your camera away and walk into the rest of your day.

---
Let me know if there's something you love here... want more (or less) of...  or, tell me what's missing. 
There's a Comments Section at the bottom of every page. Tell me if there's something you'd like to learn about!

And one more thing; please share this site with other flower photography enthusiasts!