A Peek at Past
Free Flower Wallpapers
Here's all the free flower wallpapers from past months to take a look at... 
October 2013 - Autumn's glowing, fiery colours for your free flower wallpapers.
Autumn is here... the mornings are finally crisp and so much cooler. The dog's been full of energy on our early morning walks. What a change over the last week!  In a couple of days it's October but the leaves here in Korea haven't started to change yet. So I had to turn to Canada for this fall's free flower wallpapers.

One thing that does say "fall" is the number of Koreans out here at university in the woods collecting chestnuts. Huge bags of them. Soon the street vendors will be roasting them and the smell will be drifting through the streets. 
I've picked up my fair share of them, too.  Why not... they're all over and they're free! I peeled one for Ivory 'cause she figured if I was picking them up, they had to be useful for something. She mauled one around in her mouth for awhile but she ended up spitting it out. All the more for me! Now I just have to find out how to roast them.
Anyways... I couldn't decide between these two pictures of autumn leaves reflected in the water, so I'm offering both of them for this month's free flower wallpapers. The fiery red and orange leaves are at VanDusen Botanical Garden in Vancouver.  The second image with the glowing yellow leaves is at Beacon Hill Park in Victoria on Vancouver Island.
If you have an i-phone or another smartphone, here's a colourful fall ivy wallpaper. I put a bit of a glow on it to soften it up a little.



By the way, you might have noticed that my watermark has changed from shootpetals.com to shootpetals.com... I'll be changing my website name to ShootPetals in the next few months and the whole website is getting a makeover.


Everything changes on the web so quickly and its a challenge to keep up! But it's exciting and I have lots of ideas for the new site.
September 2013 - Pretty in Pink and Purest of White
Summer was hot and humid but very productive!  Thank goodness for the duck pond here at university.  Those glorious weeping willows dipping into the water, the ducks and their teeny babies scooting over the lily pads...  my retreat from the persistent heat.

Can't tell you the number of photos I took at the pond over the summer months, there were that many!  The scene is just like out of Monet's Giverny and I'm so lucky to have that peaceful experience every day.

These images I chose for your flower wallpapers this month went through a couple of texture layers, even through they're subtle. Waterlilies and textures go great together!
Waterlilies and lotuses look a lot alike but they're quite different. Do you know how to tell which is which?  Check here for the lotuses.
I got lots of lotus photos this summer, too.  You might be seeing a couple of them as future free flower wallpapers.
Our pond sports a number of different species of waterlilies... several shades of pinks, deep magenta and the pure whites.  No lotuses in this pond but unfortunately we had a terrible growth of green water plants that weren't welcome at all. Staff members sporting hip waders spent several days pulling it out. It was good morning entertainment sitting with the dog and a cup of coffee, watching them laugh and splash around.

And the ducks appreciated that they left it all out to dry... they spent hours pecking out the little bugs and other goodies. 

It's a regular zoo around here!  Not only ducks but .....
.... we also have a number of chickens with wee babies and they got their fill of treats out of it, too!
And I got a whole library of images for free flower wallpapers for many months to come!
This month's free flower wallpapers are here to download.
June 2013 - Buddha and the Hedgehog meet Echinacea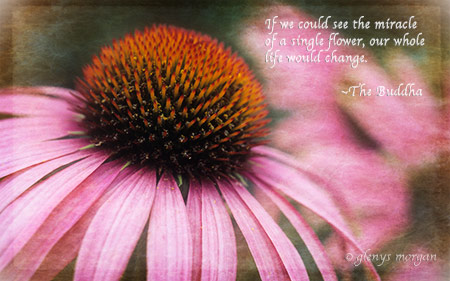 I had a great month! My mission was concentrating every day on learning something more about my camera.... you know that dreaded manual that came along with your camera? 
Well, I confess that this echinacea is not a spankin' new photo, I just love looking at it!  One of my better images from my days in photography school. And I took that on an Olympus film camera... this is a scan. (Both the pink and the white flower.)

These images has seen a whole of of different treatments but never a texture in the past. And they love textures! Which makes for fabulous free flower wallpapers!

Maybe because echinacea's rooted in naturopathic medicine... I applied a rice paper texture and they just seemed to embrace them! What else could I do than turn to Buddha for some words of wisdom?  Chuckle!
Sometimes we call echinacea the purple coneflower. You'll always find the cone, but not always the purple! White and slightly green or yellowy petals... all sorts of shades of pink.  The pollinating insects adore it.
It belongs to the aster family.
It's associated with hedgehogs!  Well, sort of... "echinos" is a Greek word which means hedgehog. Obviously referring to the spiny cone! Perfect name, don't you think?


It's an age-old flower that you can't help but associate with natural medicine. It strengthens the immune system and if you go to your local pharmacy, you'll find it in all sorts of cold and flu remedies.

But did you also know it's also associated with the Third Eye chakra? It helps to remove our worldly fears and guides us on our way to clarity.

Not just a beautiful face for free flower wallpapers this month but, ... a multitasker as well.
May 2013 - Dwarf irises in royal colours.
I've been out early morning every day for the last 30 days... and by early, I mean before 6:00 am... so that I can get sharp macros and close-up shots of the spring flowers. (Always looking for something for some free flower wallpapers for you!)

By 7:00, I've missed the stillness and the winds are picking up. South Korea has such strong spring winds - not the photographer's friend, especially if you like getting close to your subject.

I challenged myself to 30 days of getting a whole lot more familiar and comfortable with my new camera body. Everything is different, even though it's still a Nikon.

It's like taking up with a new friend... having to learn all about this new person right from scratch! There are a lot more megapixels and to get a sharp focus takes much more concentration. My tripod's been put to good use!

The manual's coming in handy and so is Lynda.com since she has a course on my camera body.  The good new is... the camera's feeling more and more comfortable.

Got an iphone? Here's one of the free flower wallpapers for you.

For something awesome and amazing to follow up the cherry blossoms... a tiny iris from a spring bouquet. 
If you love irises, you can get more of them here.
I just love the detail in the petals... and the brilliant colours!  

April 2013 - Cherry blossom season is here
Cherry blossoms are popping out all over the world right now. The absolute best flower for this month's free flower wallpapers!

I'm following the Vancouver Cherry Blossom Festival in BC on Facebook and on their website. Really wish I could be there. I miss my home in the spring time. 
Right now I'm here in South Korea and there are no complaints about the quantities and beauty of the cherry blossoms here!  I'm on campus and it's a wonderful place for "hanami" - cherry blossom viewing.
Every day this week will be a super photography day for cherry blossoms, plums, almonds, and magnolias. They're in their glory for about a week, depending on the wind and whether or not it rains. You can't hang around too long before you get out to get your pictures.
Here's the perfect subject for your free flower wallpapers this month... a few blossoms clinging to the tree trunk in this image. They sure chose a firm foundation to sprout from! 
Enjoy hanami time wherever you are right now. Love cherry bossoms... want to see more?
Go here for the Vancouver Cherry Blossom Festival.
Go here for the Yeouido Spring Flowers Festival, South Korea.
And here for cherry blossom videos.
March 2013 - Take time to meditate
I've worked overseas for 20 years and there's no life like it! But it's always amazing to go home!  
First thing, I head out to the gardens with my cameras. 
Most people don't exactly get all excited about getting out to the gardens in the winter...
...but in Vancouver, even on cold rainy days, it's peaceful and a glorious place to get lost in with a camera. I spent the last two months in Vancouver and on the Island so there was lots of garden time!
There's lots of fog in Vancouver in the fall and winter. It's so much fun to shoot in. And it's not hard to get good photos on a foggy day.
A couple of things about shooting in fog... the light is even because it's bouncing in all directrions off all those teeny water droplets... and fog obliterates crappy backgrounds! 
This scene is the meditation garden in VanDusen Botanical Garden. Everywhere was quiet and felt so secluded in the fog... even though there were several people visiting that day.
But I was completely alone here and I sat for several minutes meditating on the mosses that blanketed the rocks.  The rocks looked a bit lonely and cold in the fog but things should warm up for them soon because spring comes early in the Lower Mainland. 
The cool, lonely mood was something I wanted to express in one of the free flower wallpapers this month. 
For more of VanDusen Botanical Garden in the summer, go here.
For their seasonal Festival of Lights, go here. 



Green Timbers Urban Forest, Surrey, BC

The wildflower meadow.

April 2012 - Wild lupines in the meadow
Wild lupins grow thick at Green Timbers Urban Forest in Surrey, British Columbia. The forest has the most beautiful lake and meadow smack in the middle of the woods. On any weekend, families come to relax at the lake and mingle with the ducks! There are always several folks fishing and lots more hiking and jogging.
I spent quality camera time there during the weekday mornings when it was fairly quiet. My morning "hour of power" communing with the amazing energy of the park!
Brilliant golden buttercups and blue-violet lupins shared the meadow space at the time I took this photo. The greens are strong toward the yellow side. The foliage is young and juicy and fresh. The deeper greens take over when the meadow growth matures a few weeks later.
I just love the spring flowers here at the meadow! Even though I'm in Asia now, the image is burned into my mind. All I have to do is close my eyes... even the smell of the wildflowers is still strong!
If you're looking for Green Timbers Urban Forest Park, the parking lot is on 100th Avenue, between 140th and 148th Street. The parking lot leads into the meadow and the lake. Hiking is on either side of 100th Avenue through this magnificent temperate rainforest.
Such a beautiful, spiritual place and so glad to add it to my collection of free flower wallpapers.
Interested in visiting or getting more information about this park?  Go here to the Surrey Parks website. 

There's some information about it's history right here.
February 2012 - Yellow and white spring daffodils
Hello flower lovers everywhere! At this moment, I'm sitting in my friend's cottage in Chiang Mai, Thailand. The last few days have been totally awesome, packed from morning to night... getting to know all the best places to eat, shop and laze around with a latte in this fabulous city.
I spent yesterday, almost the entire day, at the Chiang Mai Royal Flora Ratchaphruek. Wow, what a gigantic place! A friend and I spent 5 hours walking around, scoping out the pavilions I wanted to catch on video and after 3 hours, we'd covered less than half of the entire garden area. From December to March is the international exhibition and there were gorgeous exhibits from so many countries… including Canada with some totem poles! How much more Canadian can you get?
Anyways, we stopped for something cool to drink before we set off again with the video camera all fired up. It was so hot and bright that I didn't even take out my DSLR and lenses. But I did take some photos with my point and shoot and they didn't turn out half bad! It was so contrasty, I could hardly open my eyes without my sunglasses on and that's definitely not a good photography situation. Video is more "forgiving" in harsh sun and I managed to get some good scenes. I'll do the editing and put it up on my site after I get back home late February.
Oh yes, and by the way, I have photos for this collection of free flower wallpapers, but you'll have to wait for another month when I've got access to my computer.
Tomorrow I'm off and running again all day and into the evening. I managed to get February's free flower wallpapers all fixed up before I left home last week but I'm taking time tonight before I slide into bed to get it out to you. Coming straight from bone-chilling cold winter weather to this sun and heat has taken its toll on my energy, at least for a few days. More about Thailand and Cambodia later...
This addition to the free flower wallpapers is a group of sunny colored daffodils hanging out with the sky-blue hyacinths.  I really like their soft pastel yellows and the relaxed feeling and the idea that spring is on the way.
 

Winnipeg, Canada... my friend's beautiful backyard garden is my source for this month's free flower wallpapers.

She and her husband have a large yard and have made quite the paradise of it!

January 2012 - Two orchids in the backyard garden
Orchids give you energy to raise your spirit to a higher level. So when you feel pressured, overwhelmed and frozen in action, surround yourself with these flowers.
You can find more of them right here.

It's going to be an amazing 2012! I've been working my energy in a big way this year, integrating the teachings of the Tao, and getting serious about Tai Chi. I am so excited to find out how it'll translate into my photography. 
These orchids at my friend's home in Winnipeg, Manitoba, are a strong symbol of the new world that's being created... one of love and peace. So they're the beautiful free flower wallpapers as 2012 arrives.
This shift is the result of more and more people seeking truth, joy and service to others. There's a grand movement of charitable work on the part of those who have great wealth and the means to make a huge difference.
But as the Dalai Lama said (and I chuckle every time I read it),
"If you think you're too small to make a difference, try sleeping with a mosquito!"
Whether or not you have the financial means to contribute to others who are in need, know that it's not only money that will change this world. What are you doing and being to bring joy to your own soul, and through you, to radiate to those you come in contact with? Love and joy is contagious.
It is past time that we clean up and respect our world…. protect the animals that we are driving to extinction in ever increasing numbers. They deserve to live in peace with humanity. We must also protect the oceans, plant life and forests that provide us with beauty, nourishment and the very oxygen we breath!
In this promising new year, 2012, I encourage you to step out of your comfort zone and fears and do whatever you can to make the world a better place. Even if that simply means picking up a piece of trash and putting it into the garbage bin!  
You've heard that "a picture is worth a thousand words", right? The way to make your picture talk is by your choice of subject... the composition and exposure you use. 
So make sure that when you aim your camera, you have your story in mind.
The free flower wallpapers I choose every month have some sort of tale to tell like all flowers do!  Check the flower pages to find out more about each flower's messages and symbols.