Foster Botanical Garden

... Finding peace within
Foster Botanical Gardens is one of five botanical gardens in Oahu. The five are an amazing show case of rare plants and exceptional trees.  Probably, the largest variety of plant life anywhere in the USA.


Got plans to visit Foster Botanical Garden in Honolulu?  Go prepared and research it first.  You'll find information on the Friends of Honolulu Botanical Garden website as well as the Aloha Hawaii website.


The Artistic Touch - Photo Editing
 I love the digital darkroom.  Just as much as I loved the darkroom with chemical baths and negatives. Yep, a die-hard… held on to slide film and chemicals for eons before I opened my heart to the digital revolution. I keep a foot in both worlds!

Want to give your pictures a little extra zip? Learn some basic photo editing. Bet you can't stop with basic....
...that's right, you know you want to push those pixels to the edge. So...

Download a free or bargain-priced model and play.. Crop, boost the saturation, change the white balance. And just play!
The Cannonball Tree

... Weird and wonderful any way it's dressed up.
One of the most fascinating trees ever. 

It's quite peculiar and it lends itself to any photo editing style. These two final images are my two favorites.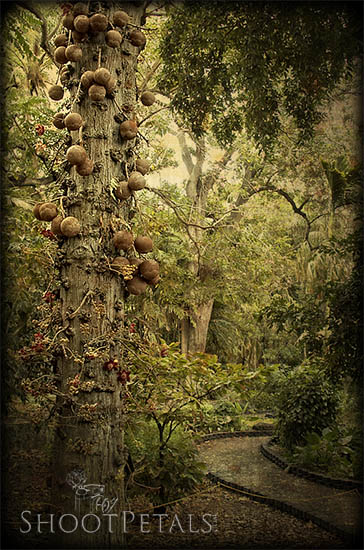 In the image above, I used two textures and two vignette layers to morph the actual scene into a fantastic landscape I imagined...

Dark and mysterious... even eerie
Just for a bit of fun, I like to play with Photoshop's artistic filters. That's how I came up with the second version below...

Cheery and bright with pretty flowers and baubles.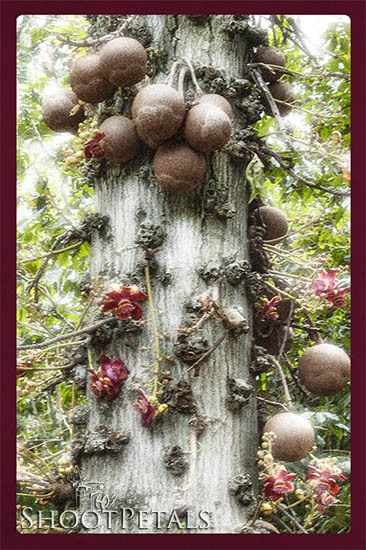 I went through the whole library.  Tried every filter in the line up.  But didn't find anything I fancied... until this.
Here's how to find that filter: Filters => artistic filters => distort => diffuse glow

A few sliders will pop up so give them all a whirl. Slide 'em around till you find a look you like.  Experiment. You won't break Photoshop... at least I never have!
---

Meet the Kapok tree... what fabulous character! I want to wrap my arms around it.... but my arms aren't long enough!
Yes ... I proudly confess to being a passionate tree hugger. 
Gnarls, bumps, feet, hidden faces... all there.  See them? They popped with a magical  process -  HDR.  Amazing detail!


One of the massive Kapok trees at Foster Botanical Garden in Honolulu. HDR exaggerates the texture in the bark. I included the park bench for perspective.
This curious tree was planted around 1853, which makes it more than 150 years old.  The Kapok can grow 15 feet in a year and it looks like this big fella did! 

The itsy-bitsy park bench isn't a toy. It's there to give you some perspective... to show how massive the tree is.  I sat right on that bench, looking up to the top of the tree... and I mean a l-o-n-g way up!

HDR (High Dynamic Range) Photography

On1 photo editing software does a good job as an HDR look-alike. Besides Photoshop, it's my go-to photo editing program.
HDR looks surreal if you push the limits. I don't usually like surreal... I just use it to bring out detail.

If you shoot HDR in camera, you'll need a tripod.  Take at least 3 images... meter and shoot your 1st image, then shoot 1 stop under-exposed and another 1 stop over-exposed. 
All shots have to be in exactly the same position or the software can't line the images up correctly... that's why you need a tripod.

There are photo editing software programs totally devoted to merging to HDR but I use Photoshop. It's effective and I don't have to buy another program. 
If shooting HDR becomes a habit with you, invest in a program. Test drive a couple before you put your money down.

The Spiritual Garden


Most people take photos of Buddha from the front. But if I took a picture of his beautiful face, that would mean the stone lantern, or doro, isn't included. And it's significant to my photo.

Each part of a doro represents one of the 5 Buddhist natural elements.  The base is earth, the pedestal's water, the part that contains the flame is fire, above that is air and the very top portion, closest to the sky, is spirit.

A garden doro knows how brief life is. It sits there in the garden experiencing the 4 seasons again and again. It sees the cycles the flora and fauna go through.  And their passing.

The beautiful, sweet smelling flowers, people appreciating the garden, singing birds, pollinating insects... they'll all end in Death.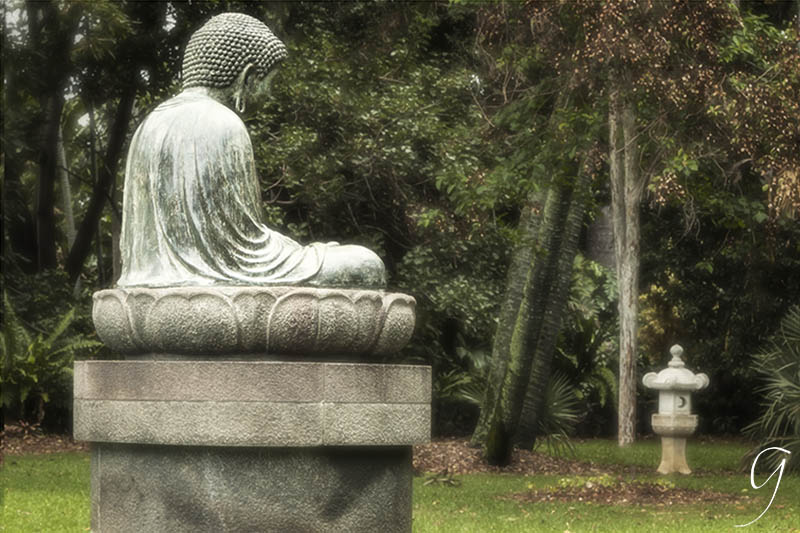 Buddha sitting in lotus position. Viewed from the side to include the stone lantern, or doro, that Buddha is looking at.
The temple bell stops but I can still hear the sound
coming out of the flowers.
~Matsuo Basho

I didn't take this shot from the front because Buddha's serene face isn't the story I wanted to tell. No stone lantern would have missed the story. And every photograph has to have a story.
In this photo, Buddha is contemplating the doro across the lawn.  Since you know the symbolism of the stone lantern now, you understand the story of this photo.
Buddha's contemplating the transient nature of our
earthly bodies and the transcendence of our souls. What better place to experience the natural cycle of life and death than in a garden?


Foster Botanical Garden Conservatory

... Orchids galore

Just beyond Buddha is the Conservatory.  Inside is a gorgeous collection of orchids. An excellent opportunity for orchid photography.  Make sure you've got your tripod and lots of time.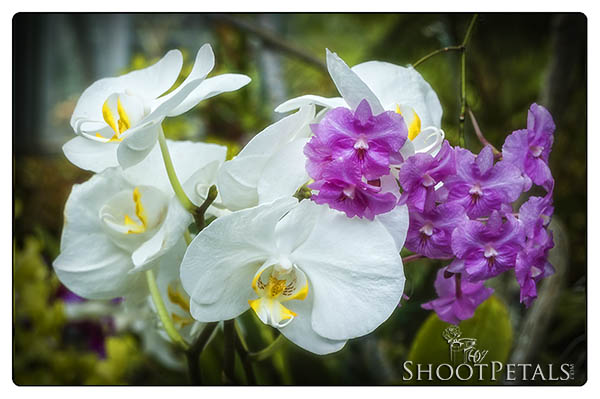 Large white and smaller violet phalaenopsis orchids in the conservatory at Foster Botanical Garden, Honolulu. A dark vignette hides any distracting background elements.

Both of these are phalaenopsis orchids. I loved the contrast of white with the smaller bright violet blooms.
The orchids in the bottom left were brilliant yellow and I used a dark vignette to blend them into the background.  If they stayed all bright and sunny, you'd keep staring at them instead of the orchids in the middle. 
.

That's a Wrap, Folks


Even though Foster Botanical Garden is fairly small, it's home to 25 of the 100 exceptional designated trees in Oahu. The original site was only 5 acres in 1853. In 1930 the garden was entrusted to the city of Honolulu and after that it gradually sprouted to 14 acres.
Yes... small, but it's home to so many rare plants and historically meaningful trees.  After 1930, thousands of non-native plants and trees were imported for the garden... a diverse range of subjects here to photograph.

It's only 1 of a group of 5 exceptional botanical gardens in Honolulu... a garden oasis just outside Honolulu's downtown area.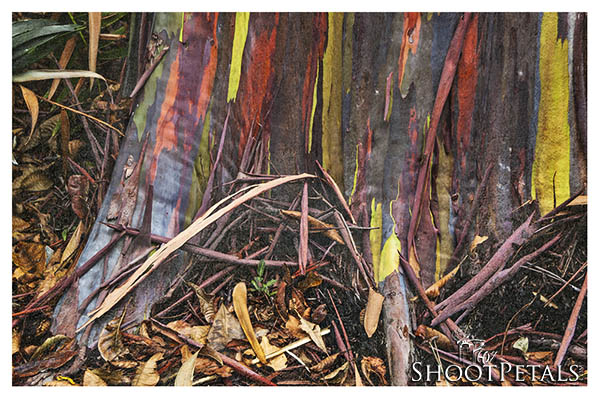 The colorful bark on the trunk of a Eucalyptus tree at Foster Botanical Garden, Honolulu. A touch of HDR added in ON1.

The trees in this garden make awesome subjects for photography.

My next favorites were the orchids in the conservatory, but there's also an outdoor orchid garden I didn't have time to take in.
I only had a few hours one afternoon to spend here but next time, I'll plan a whole day. There's so much more to photograph.
A peaceful, inviting garden.  A perfect environment to relax and focus all your attention on the process of garden photography.